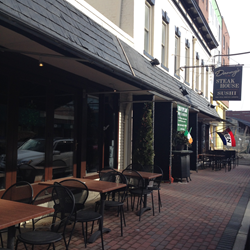 Everyone always asks me, 'so what are you going to be this week?' I simply tell them, STILL IN BUSINESS
Red Bank, New Jersey (PRWEB) March 25, 2015
Most lifelong Red Bank, New Jersey residents would recall the popular 1970's restaurant, Danny's Italian Restaurant that was made famous by its frequent celebrity visitors. With several renovations and menu changes over the years, the once-Italian restaurant has since become Danny's Steakhouse and Sushi and is still bringing in the business it did years ago.
It all started when owner, Danny Murphy bought the oldest pizzeria in Monmouth County, New Jersey in 1969 opening Danny's Italian Restaurant. Gaining much of his experience working with his mother, who owned a local eatery, Murphy quickly became one of the youngest restauranteurs to own a liquor license at the age of 26. "It became the neighborhood go-to Italian restaurant and stayed that way for a while," said Murphy.
As more Italian restaurants moved into the area, Murphy decided to adjust his menu. "There were too many Italian restaurants moving in, so I decided to change things up a bit," said Murphy. "A colleague of mine suggested that I turn the place into a steakhouse, which I knew nothing about at the time. I had to do a lot of homework." Murphy also opened several other establishments throughout his career including Matawan, New Jersey pub, The Church on Main Street, The Charlie Horse Café, in Middletown, New Jersey, and Nibbles, a Jewish-Italian diet deli in Ocean Township, New Jersey.
Currently, Danny's Steakhouse and Sushi serves a variety of dishes ranging from steak, sushi, seafood, burgers and pizza. Murphy, who began his career as a chef, often helps out in the kitchen any way he can. "What my chefs do in the kitchen nowadays is miles away from what I did in the Italian restaurant," said Murphy. "The chef I have now is the best I've ever had. You can't cook and run a restaurant. I enjoy the front of the house where I can watch my tables, and joke with the customers in a way that most people can't and get away with it."
Although the steakhouse does not offer extensive musical entertainment like it previously did over the past 47 years, Danny's has welcomed famous faces including Billy Crystal, Bruce Springsteen, and Danny Devito as patrons. "For fifteen years we were a celebrity hangout," said Murphy. "Anyone that performed at the Garden State Arts Center in the 70's and early 80's came here."
Something else Murphy is known for is constantly changing his restaurant, which has been remodeled seven times since first opening. "You need to own your location and do things that attract new business," said Murphy. "I'm known as the restaurant that is constantly changing its image. Everyone always asks me, 'so what are you going to be this week?' I simply tell them, STILL IN BUSINESS." The next project Murphy is working on is updating the outside tables and chairs for the summer season.
After nearly 50 years in business, Murphy still cannot imagine doing anything else with his time. "People ask me if I would consider selling the restaurant and retiring, but what would I do, take up golf? I tried, I suck at it," said Murphy. "Every person I know who has sold a restaurant wanted to get back into it within a year or two. It's a very social business and they get bored and want to come back."
Danny's Steakhouse and Sushi is open for lunch and dinner Monday through Sunday from 11:30 am to 12:00 am. Weekdays from 12:00 pm to 4:00 pm guests are invited to their Mad Men Lunch offering cocktails and lunch and an all-day happy hour. Both in-house and off-premise full service catering are available. All food is cooked on location. To view their menu or book a reservation, visit their website at http://dannyssteakhouse.com/ or call 732.741.6900.
About Bielat Santore & Company
Bielat Santore & Company is an established commercial real estate firm. The company's expertise lies chiefly within the restaurant and hospitality industry, specializing in the sale of restaurants and other food and beverage real estate businesses. Since 1978, the principals of Bielat Santore & Company, Barry Bielat and Richard Santore, have sold more restaurants and similar type properties in New Jersey than any other real estate company. Furthermore, the firm has secured in excess of $500,000,000 in financing to facilitate these transactions. Visit the company's website, http://www.123bsc.com for the latest in new listings, property searches, available land, market data, financing trends, RSS feeds, press releases and more.