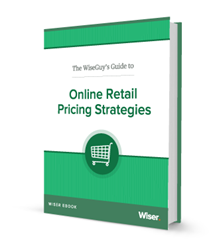 This guide to the top pricing strategies can give retailers the direction they need to remain competitive and profitable at the same time.
San Francisco, CA (PRWEB) March 24, 2015
For online retailers, deciding how to price products can be a challenge. With the top 11 pricing strategies included, Wiser's latest eBook is looking to change that.
Pricing in online retail is one of the main concerns for thousands of retailers across the retail industry. Wiser's latest eBook provides pricing strategies that retailers should know in order to increase sales, profit, and conversions. Whether retailers want a better understanding of psychological pricing, or a guide on how to adopt a dynamic pricing strategy, Wiser's new eBook has it all.
The reality is that the market is constantly changing and it takes a great deal of time and dedication for retailers to find the perfect pricing strategy at any given point in time. That often means that retailers must employ more than one pricing strategy based on product type and numerous other variables. Arie Shpanya, CEO of Wiser, said, "Pricing can help a retailer differentiate themselves from the competition in a crowded marketplace, and we hope that this guide to pricing strategies can give retailers the know-how to really take control of their pricing."
From understanding price perception to getting a grip on lesser-known strategies, such as market basket pricing, Wiser's pricing eBook gives retailers the most comprehensive look at different strategies that are most beneficial for retailers. Wiser takes it a step further and provides empirical evidence to show just how well these common strategies work. For example, Amazon did a great job with market basket pricing during the past holiday season. The retailer sold TVs below competitor prices, and made up the profit by selling the necessary cables at comparatively higher prices.
Wiser's new eBook is useful for any retailer, new or experienced. This guide to the top pricing strategies can give retailers the direction they need to remain competitive and profitable at the same time. In an industry that is extremely crowded, having the best price can make the difference between winning a sale or a losing a customer.
Click here to download the complimentary Pricing eBook.
About Wiser:
Wiser provides a complete suite of solutions to give retailers, brands, and manufacturers the edge to stay both competitive and most importantly, profitable.
Wiser's flagship product is WisePricer, a full-featured dynamic pricing and merchandising engine that monitors, analyzes and reprices retail products in real-time. WisePricer enables retailers to boost profit margins and revenue, price with confidence, and improve merchandising through powering the development of a sound pricing strategy.
For more information on Wiser, please visit wiser.com.