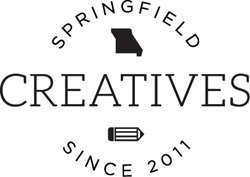 We're excited to welcome Aaron Draplin and hear the insights he shares during the "Tall Tales from a Large Man" presentation.
Springfield, Mo. (PRWEB) March 24, 2015
Springfield Creatives proudly presents an engaging, informative event for creative professionals and students on March 26, featuring graphic design expert Aaron Draplin.
"We are very excited for Aaron Draplin's visit," says Charlie Rosenbury, president of Springfield Creatives. "He's relatable with an expertise that will appeal to creatives of all abilities and professions."
The afternoon begins with a workshop at 2 p.m. at Brick City. Draplin will open up his work files, share tips, tricks and troubleshooting advice and answer questions. The event is open to members of Springfield Creatives and the general public. Students, in particular, are encouraged to attend, and may enter with a valid student ID. Following the workshop, there will be a mixer hosted by Missouri State University (MSU).
Next, Draplin will share insights from his career, where he came from and how he got there in "Tall Tales from a Large Man." The presentation takes place at 6 p.m. in Glass 101 on the MSU campus, and attendees will be able to purchase Draplin-designed items from an onsite merchandise table.
As the founder of Draplin Design Co. in Portland, Ore., Draplin has more than 20 years of experience with "everything from lettering café signs to drawing up logos to thinking up local advertising campaigns," according to the Draplin Design Co. website.
The Detroit native earned his design degree from the Minneapolis College of Art and Design. Prior to launching his own firm, he served as art director for Snowboarder magazine and as a senior designer for Portland-based Cinco Design Office. Draplin's clients have included numerous snowboarding brands, outdoor apparel and print publications.
Springfield Creatives appreciates the Marlin Network and the MSU Art and Design Department for their valuable help in bringing Draplin to Springfield.
Springfield Creatives is a collaborative group of local creative professionals committed to the celebration, continued development and promotion of the rich creative community in Springfield, Mo., and the surrounding areas. Members enjoy a number of professional development and networking opportunities and may promote their services through the Springfield Creatives Directory. Students may join for free and have the opportunity to participate in annual portfolio reviews. For information on this and other upcoming events, and for membership details, visit springfieldcreatives.com.