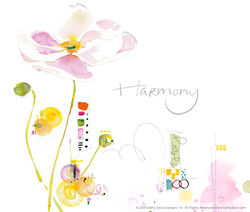 We've signed 12 new licensees in the past year, and we're working closely with all of them to nurture our relationships and develop the business.
Horsham, PA (PRWEB) March 24, 2015
Having finished 2014 with sales of $135 million at retail, a 15 percent leap over 2013 sales, Kathy Davis begins its 25th anniversary year with much to celebrate. Key placements of jewelry, fabric, gift and paper party ware are gaining traction across retail channels and are aligned with marketing initiatives the company is planning to mark its anniversary. The company anticipates continued momentum when it exhibits at Surtex in New York City and at the Licensing Expo in Las Vegas.
At retail, Kathy Davis visibility is at an all-time high with the following new placements in fashion, fabric, gift, paper party ware and social expressions.
Jewelry: NES Jewelry has placed the Kathy Davis Scatter Joy jewelry collection at JC Penney, Sears, Shopko and Meijer, among other stores, for Mother's Day. Packaging coordinates with the Kathy Davis Mother's Day Greeting Card end cap program, a natural tie-in for accounts that carry American Greetings cards.
Fabric: Fabric Traditions will bring Kathy Davis Scatter Joy fabric to Jo-Ann Fabric and Craft Stores in May.
Multiple Kathy Davis products: Numerous categories enjoying great traction at Meijer stores include gift (Demdaco) and paper party ware (Creative Converting). Later in the year, Meijer will also feature the Scatter Joy holiday gift program (Silvestri).
Core Social Expressions: The Kathy Davis core social expressions business expands as Clintons Stores in the UK introduce the brand. Domestically, the vintage brand Kathy Davis Designs and a new humor brand called Joy Ride will release premier collections for independent alternative channels.
Kathy Davis will launch new collections in a return to the Surtex Show in New York City (May 17-19, 2015 at the Javits Center; Booth # 427) and at the Licensing Expo in Las Vegas (June 9-11, 2015 at the Mandelay Bay Convention Center; Booth #G34). The company will focus on growing lifestyle categories in home, fashion, gift and stationery, building on successful March launches of key product categories in bedding, bath, jewelry and social expressions. Three Spring 2016 collections – Harmony, Alegría, and Seascapes – will debut at both shows.
"Everything is pretty much going according to our strategic plan," says Sarah Van Aken, VP Marketing for Kathy Davis. "We've signed 12 new licensees in the past year, and we're working closely with all of them to nurture our relationships and develop the business. In addition, we're looking forward to the new partnerships that we expect will result from meetings at the spring shows."
"We're really looking forward to doing business in our 25th Anniversary year," says Kathy Davis, Chief Visionary Officer of the company that bears her name. "Rather than a culmination, it's actually the start of something big and exciting – and an opportunity to further our commitment to inspiring others to Create a Life they Love."
About Kathy Davis Studios
What began over 25 years ago with a handful of greeting cards is becoming a way of life. Kathy Davis has evolved from the core belief that everyone has the right to create a life they love. In pursuit of that vision, we have become valued for the connections we encourage with our expressive painting and inspiring message on products. We are committed to creating meaningful products, fostering a connection and above all, honoring the Kathy Davis passion to "Make Life a Work of Art."