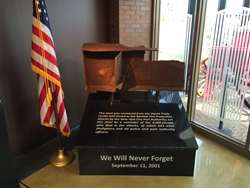 Bartlett, IL (PRWEB) March 24, 2015
Auto Truck Group has announced today that the Bartlett Fire Protection District has received a recovered piece of material from the World Trade Center and will host a remembrance event and dedication ceremony open to the public at 234 North Oak Avenue on April 11, 2015 at 9:00 am.
Paying homage to the heroes and victims of the terrorist attacks that occurred on September 11, 2001, the Bartlett Fire Protection District joins 19 other fire departments in the State of Illinois to house material recovered from the World Trade Center.
The Bartlett Fire Protection District consulted with Auto Truck Group on construction of the display, and Auto Truck Group was more than willing to donate time, labor, and materials to construct the display on which the girder rests.
With the top and all sides faced with granite, the display's engravement reads: "This steel was recovered from the World Trade Center and issued to the Bartlett Fire Protection District by the New York City Port Authority. Let this steel be a reminder of the 3,000 people who died in the attacks, of which 343 were firefighters and 60 police and port authority officers"
"When we heard the news from Mike Falese, Fire Chief at the Bartlett Fire Protection District, we wanted to help in any way that we could," said John Smulski, Account Manager at Auto Truck Group. "We are honored to have the opportunity to pay tribute to the heroes in the tragic events surrounding the September 11 terrorist attacks."
The ceremony is open to the public and will feature a dedication speech along with a moment of silence.
###
About Auto Truck Group
Auto Truck Group is a leading work truck upfitter in North America. Founded in 1918, Auto Truck Group serves the continental United States and Canada with ten service centers and ship-thru service with five top OEM manufacturers. Auto Truck Group specializes in the design, manufacture and installation of truck and van equipment for a wide variety of customers, trades and industries. From custom orders to entire fleets, Auto Truck Group is ready to help pool/dealer customers, fleets, commercial users, including those working in construction, energy and telecommunications, utilities, municipal and state governments, railroads and many other businesses and industries. For more information, contact Auto Truck Group at 855-AutoTrk (288-6875), or visit http://www.AutoTruck.com.