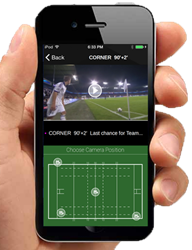 ChirpVision's system makes it possible for fans to search for a games best moments and favorite players live or On Demand.
Los Angeles, CA (PRWEB) March 24, 2015
Working with EVS, a leader in live sports video workflows, ChirpVision has developed a distribution gateway that integrates with EVS C-Cast workflow. The system is part of ChirpVision EventHorizon platform, a full-featured platform bringing live events to mobile. EventHorizon efficiently delivers live content to mobile devices in-stadia and globally in real time using advanced video technology for multicast streaming.
The system capitalizes on EVS C-Cast features that gives fans views from multiple cameras angles and astounding camera-quality replay views. Slow motion replays with rewind bring a compelling new second screen experience in-stadium. Fans see more action, instantly delivered to their mobile, driven by EVS C-Cast technology.
EventHorizon integrates with EVS C-Cast workflow to seamlessly deliver live content from video production to mobile in-stadia and internet clients. The workflow fuses the video to social media promotion and live sports feeds, making content more accessible with less production cost.
ChirpVision's system makes it possible for fans to search for a games best moments and favorite players live or On Demand. The system publishes directly to social media, generating huge exposure and awareness, but brings fans back to the team and event websites to create new opportunities for engagement and monetization.
EVS launched the C-Cast Applied Challenge to recognize original and innovative app experiences that integrate with their C-Cast Distribution Platform. Winners will have developed apps that can change the way people experience and consume live TV. EVS selected ChirpVision as a winner of the C-Cast challenge, awarding a place at NAB 2015 show to showcase this revolutionary workflow that connects C-Cast and live content to mobile and internet fans. ChirpVision will be demonstrating the EventHorizon system at EVS booth during NAB 2015 in Las Vegas, April 13-16.
ABOUT CHIRPVISION
ChirpVisionTM is an interactive in-venue broadcast system over WiFi to mobile devices. Features include multiple live video streams, highlights, DVR, social media and ad insertion capabilities. ChirpVision is a subsidiary of Chirp, Inc. which has developed patented technologies for web acceleration, video compression, media transport & archiving technologies as well as mobile applications and software. ChirpVision is a registered trademark of Chirp, Inc. All Rights Reserved For more information, please visit http://www.ChirpVision.com.
About EVS
EVS is globally recognized as the technology leader for live video production. The company introduced Live Slow Motion replay in 1994, and has continued to build on its reputation for quality and reliability with solutions that enhance live sports, entertainment and news content. Innovations – such as the C-Cast multimedia platform and DYVI IT-based switcher – are raising the bar for live production enrichment, management and distribution. Broadcasters, rights owners, producers and venues alike use EVS to maximize the value of their productions and increase revenue streams.
The company is headquartered in Belgium with offices in Europe, the Middle East, Asia and North America, and provides sales and technical support to over 100 countries. EVS is a public company traded on Euronext Brussels: EVS, ISIN: BE0003820371. For more information, please visit http://www.evs.com