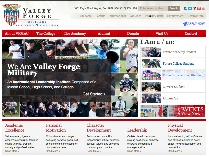 The new site will propel the school to the forefront of today's educational institutions online.
Wayne, PA (PRWEB) March 25, 2015
Valley Forge Military Academy & College announces the launch of its modern, sleek new website http://www.vfmac.edu, which incorporates a host of new digital features designed to improve user experience and increase engagement. The new site will propel the school to the forefront of today's educational institutions online, demonstrating its ongoing commitment to excellence, leadership, and community.
The new Valley Forge Military Academy & College website is designed to enhance the online experience for current students, alumni, faculty and families, while helping to increase enrollment and engagement with prospective students. Jamieson Bilella, Vice President for Enrollment Management and Marketing, notes: "We wanted the site to showcase the depth and breadth of the experience that is Valley Forge Military to our online visitors. Especially since for many, this is their first and in some cases only, introduction to our school, campus, and offerings." Through a comprehensive back-end update, increasing the site's functionality and flexibility, combined with a fresh, new look, streamlined navigation and more robust content, the new website highlights the unique educational opportunities available at VFMAC.
The new http://www.vfmac.edu site includes the following site enhancements:

Responsive Design: Allowing easy, mobile-friendly navigation, reflecting the way today's students use and interact on the web.
Streamlined Navigation: Easy-to-use menus and more obvious main points of entry, enable visitors to quickly locate the relevant content they are looking for online.
Improved Visitor Section: Scheduling visits, virtual tours, and obtaining application details make it easier for prospective students to learn more about VFMAC and apply.
Focus on Student Life: Enhanced content surrounding athletics, extra-curricular activities and residence life depict a more complete picture of life as a Valley Forge student.
Defined Content Areas: Distinct sections have been set up for each school, alumni, parents, international students and prospective students, athletics and faculty.
Valley Forge Military Academy & College offers a premier educational experience for students, utilizing the core tenets of a military structure, combined with the valued educational and cultural experience available only through a school with such a long history of tradition and commitment to student growth. With a focus on academic excellence, character development, personal motivation, physical development, and leadership skills, the educational experience offered at VFMAC is unparalleled. A large international student-body, commuting options and opportunities for students both interested and not-interested in a military career combine to create a unique and valuable academic and social environment that ideally positions students for a flourishing and prosperous future.
About Valley Forge
Valley Forge Military Academy & College is an international leadership institute, comprised of a (grades 6-8), high school (grades 9-12), and college. Located in Wayne, PA, 12 miles from Philadelphia, VFMAC offers both commuting and boarding options for students.
Students are immersed in a unique educational experience centered on academic excellence, personal motivation, and character that helps them reach their academic potential to achieve success in the classroom and beyond. From its cadet ranks, to competitive PIAA and NJCAA athletics, to its award winning equestrian program, VFMAC teaches students leadership and responsibility in practical ways.
Valley Forge is the only college in the northeastern United States, and one of only five in the country, offering the Army's two-year Early Commissioning Program leading to a reserve commission at the completion of the sophomore year. The curriculum at Valley Forge Academy emphasizes college preparation. The Academy offers advanced placement, honor and enrichment courses, as well as opportunities for independent study.