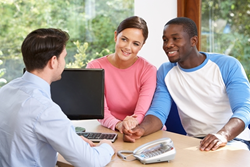 Rockville, MD (PRWEB) March 26, 2015
Residential mortgage interest rates this year are at their lowest since July 2013, according to an insight report from industry software provider Ellie Mae®. And the Office of the Chief Economist for home mortgagefinancing giant Freddie Mac identifies 2015 as "the best year for home sales since 2007." So, with economic factors pointing to now as the time to buy or refinance a home, consumers need to be savvy in choosing an attentive mortgage lender, who can pre-qualify and process their loans quickly—giving them an edge in this busy and competitive market.
"Once you've identified the best interest rate you can get, one of the main points to consider is the length of time between loan application and closing. The shorter the better," says Fillip Feller, CFO of Capital Bank, N.A., a Washington, DC metropolitan area bankheadquartered in Maryland. "Also, communication is important to help overcome the anxiety many consumers face when making such a big investment.. The kind of personal attention loan officers give customers can make the difference between a smooth process or a bumpy one."
One of the first steps consumers face in their mortgage process is locking in an interest rate. A quick process and closing are imperative in avoiding an extension, which causes fees to be added to maintain the locked-in rate. Consumers want to identify a loan officer who knows the ins and outs of the industry and can close the loan within the initial allotted time. Typically these loan officers are the ones who have closed lots of loans and have strong loan processing support.
Sometimes such loan officers work at mortgage companies, but a better option may be a small-to-mid size bank that will underwrite the loan on site. A good example of this is Capital Bank, N.A., located in the Washington, DC metropolitan region, which has a nation wide mortgage division. The loan team keeps a single point of contact for each mortgage client, and has closed loans in as little as 10 days from application—one-fourth the time an average home mortgage loan takes, according to the Ellie Mae data. The bank's loan officers have deep industry experience, with two recently recognized as among the top 50 mortgage originators in America by Mortgage Executive Magazine's Top 200 Mortgage Originators 2014. Team member Brian Blonder ranked number 10 in the country and Brad Cohen ranked at 47. These rankings are a big feat for a bank with $600 million in assets—a testament to high quality service and customer loyalty since Capital Bank's mortgage division growth has been organic, without acquisitions.
Says Feller, "Our goal is to close on every home loan as quickly and as efficiently as possible. And, no matter how many loans we process, Capital Bank Mortgage stays focused on maintaining a high touch experience for clients."
About Capital Bank
Capital Bank, N.A., is a leading private bank in the Washington, D.C. metropolitan area that offers a range of services encompassing cash management, commercial lending, consumer credit and residential mortgage/Veterans Administration mortgage loans. Capital Bank's core commercial banking and lending business includes two rankings by the U.S. Small Business Administration (SBA), ranked number two among community lenders and in the top ten among all lenders in the Washington Metropolitan District for loan volume for Fiscal Year 2014. With double-digit asset growth over the past three years, Capital Bank has more than $600 million in assets and is well positioned to fulfill its culture of collaborative partnerships and solutions for area businesses and consumers nationwide. For more information, visit http://www.capitalbankmd.com. Member FDIC. An Equal Housing Lender.
CAPITAL BANK, PARTNERS IN YOUR VISION