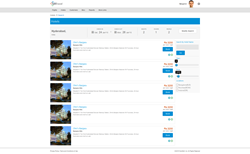 Los Altos, CA (PRWEB) March 24, 2015
SutiSoft Inc., a trusted provider of easy to use business management solutions, today announces a new release of SutiTravel, its online travel booking software. These new features provide travel agents additional customization options and enable agents to serve their customers better.
Group commissions: Travel agents can offer different commission rates to different sub-agents. The sub-agents can be split into groups and travel agents can set the commission rate that each group will receive.
Hotel & bus markup: Travel agents are now able to set markups on hotel and bus bookings. Email multiple itineraries: Travel agents have the option to select and mail multiple itineraries to their customers. Online ticket cancellation for Abacus: Travel agents can complete any cancellations or modifications online for airline tickets booked through Abacus.
Applying markups/discounts: Travel agents can now apply markups or discounts at the final stage, i.e., just before booking the ticket.
For more details about the solution, please visit https://www.sutitravel.com/index or call us at 1.650.969-7884 or e-mail media(at)sutisoft.com.
About SutiSoft:
SutiSoft provides a comprehensive suite of cloud-based business management solutions for companies of all sizes. The suite includes scalable and easy-to-use solutions for HR, payroll, employee travel & expense, ERP, CRM, document management, business data analytics, and electronic signature. This allows small, mid-size, and enterprise customers to control costs and save time through use of integrated solutions. Headquartered in Los Altos, California SutiSoft also has regional offices in Germany, India, and Japan. Additional information is available at http://www.sutisoft.com.