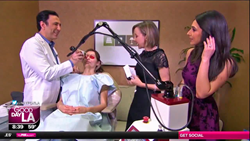 Los Angeles, CA (PRWEB) March 24, 2015
On March 18, 2015, Elle Magazine, in an article titled "I Got Snail Slime Needled Into My Face," reported on the latest beauty craze that combines micro-needling and snail mucus. Micro-needling is the use of a device with hundreds of tiny needles to make thousands of microscopic holes in the skin for the purpose of generating collagen reproduction. Snail mucus, which contains large amounts of hyaluronic acid and antioxidants, is said to boost the production of collagen even higher. (see: goo.gl/IFLPJF)
"I'm always interested in learning about new procedures and products," says Dr. Simon Ourian, Medical Director of Epione Beverly Hills. "I practice evidence-based medicine, and I'd need to see some hard data before I brought these treatments into our practice."
According to the Elle Magazine report, the treatment begins with the application of a serum that is not further described nor whose purpose is explained. Then an aesthetician uses a micro-needling device to create thousands of tiny wounds on the skin of the face. The author likened the experience of the treatment to getting a bad sunburn. Finally, the snail mucus was applied to the freshly needled skin. The treatment is reported to improve the appearance of fine lines, acne scarring, and under-eye bags.
"It is interesting that the author reported experiencing good results," says Dr. Ourian. "This treatment may merit further investigation, but I find it difficult to believe the claim that the results can equal those from a laser treatment."
Dr. Ourian has been a pioneer in laser technology and non-invasive aesthetic procedures including Restylane, Juvéderm, Radiesse, Sculptra, and CoolSculpting. These treatments are used for the correction or reversal of a variety of conditions such as acne, acne scars, skin discoloration, wrinkles, unwanted fat, stretch marks, varicose veins, cellulite, and others. More information about plastic surgery can be found on Epione's website.