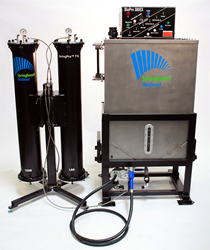 Chico, CA (PRWEB) March 25, 2015
Springboard Biodiesel announced today that it has been selected to provide its turn-key, small-scale biodiesel processing system to Bagram Airfield in the Parwan Province of Afghanistan.
Springboard Biodiesel's BioPro™ 380EX and SpringPro™ T76 comprise a small-scale biodiesel processing system designed to inexpensively convert the base's used cooking oil into ASTM-grade biodiesel that can then be used in diesel vehicles on base.
Springboard Biodiesel's CEO, Mark Roberts, commented, "Springboard is excited to provide this made-in-the-USA, clean technology solution to the US military. In Afghanistan, the fully burdened cost of diesel fuel is extremely high. We've heard estimates North of $10/gallon. The BioPro™ systems made by Springboard will enable the base to produce high quality biodiesel fuel for less than $1.00 per gallon - not to mention, biodiesel made from used cooking oil burns up to 90% cleaner than regular diesel."
Springboard Biodiesel has worked with a large number of institutions that have access to used cooking oil. "We refer to these groups as 'Captive Kitchens'", continued Mr Roberts, "meaning that as a natural consequence of their mission, they cook for large groups of people: schools, restaurants, hotels, prisons, casinos and, of course, military bases, where there is the added element of fuel security. Making a cleaner burning fuel, safely and inexpensively on-site, gives these groups a huge advantage. We're hopeful that the success of Bagram's small-scale biodiesel production initiative will resonate with other bases that want to copy the model."
About Springboard Biodiesel:
Springboard Biodiesel has been building automated, small-scale biodiesel production systems since 2008 and has more than 1,000 of its systems operating in all 50 states and now in 24 countries. The Company estimates that the cumulative biodiesel production capacity enabled by its systems surpasses 7.5MM gallons annually, which results in a CO2 emissions reduction of approximately145MM lbs. annually.