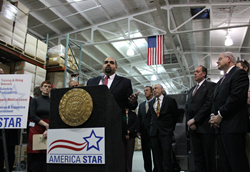 Garwood, NJ (PRWEB) March 23, 2015
Calling it a response to his challenge to Congress earlier this year to provide meaningful support to our veterans seeking jobs, GI Go Fund Executive Director Jack Fanous today joined U.S. Senator Robert Menendez (D-NJ) and other New Jersey officials to applaud Menendez's bill that encourages employers to provide and train veterans for good, sustainable employment. The bill would provide a federal America Star rating in recognition for keeping good labor practices, including bringing more veterans into the workforce.
Fanous joined Senator Menendez, N.J. State Sen. Raymond Lesniak, Union County Sheriff Joseph Cryan and Union County Director of Economic Development Colleen Mahr in touring the Pen Company of America (PCA), where a press conference was held to announce the America Star Act.
In his remarks, Fanous alluded to in his op-ed that was published at the beginning of the year, in which he noted that lawmakers and business owners need to put more action behind their proclamations of being in support of our troops.
"I have never met a business who is not 'veteran-friendly', but we need more from companies than to just be 'veteran-friendly," said Fanous. "That is why I applaud Senator Menendez's efforts to help employers focus on best practices – including hiring more veterans – so that they not only do what's good for profits, but what is good for America."
From the podium, Senator Menendez recognized and thanked Jack and everyone at The GI Go Fund for their efforts to put veterans to work during the past decade.
The America Star Act focuses on recognizing companies that demonstrate outstanding support of American workers based on their hiring and worker support practices. It would create a program within the U.S. Department of Labor (USDOL) to empower consumers to make more informed decisions about where to bring their business, while increasing the market incentive for other companies to implement better workforce support practices and improve the conditions and compensation for employees.
For more information about the America Star Act, visit http://www.menendez.senate.gov.
The GI Go Fund is a 501(c)(3) nonprofit charitable organization that provides assistance to all military veterans, with a focus on veterans who served in Iraq and Afghanistan, by helping them find employment, access housing and secure their education and health benefits. Through an innovative partnership with the City of Newark, The GI Go Fund has created an historic program and has become one of the leaders in the veterans community through creating innovative, 21st century solutions to help veterans. To learn more about The GI Go Fund, visit http://www.gigofund.org.