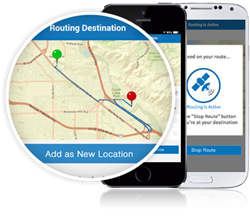 Our engineering team developed this mobile routing feature to address complex asset management challenges and deliver new cost-saving opportunities
San Jose, California (PRWEB) March 25, 2015
The market leading online inventory system using barcode technology, BarCloud, provides an enhanced way of tracking assets that are outside the four walls— by capturing the exact route taken on the BarCloud mobile app. Users can now track the routes of assets such as vehicles or pallets with the click of a button on a smart device. This new feature increases accountability, visibility, and optimizes asset management performance by providing insightful information after assets are moved.
For example, if you are a project manager in charge of overseeing multiple work sites, it is essential to manage the whereabouts of each asset, who moved them, and the route taken, in case equipment is needed elsewhere. Loss or misplacement of equipment could slow down production and ultimately delay project completion. Therefore, with BarCloud's Route Tracking feature, users reduce the risk of losing equipment during transportation and managers can see how assets get from point A to point B.
"As asset management becomes more sophisticated, so do the BarCloud asset tracking features. Our engineering team developed this mobile routing feature to address new complex challenges and deliver new cost-saving opportunities," said Elie Jean Touma, CEO of ASAP Systems.
BarCloud continues to redefine how assets are managed on the fly. The barcode-scanning mobile app not only tracks asset routes, but also adds the ability to perform end-of-route transactions. After successfully transferring equipment from location to location, users can also move selected assets, check them out, or dispose of them directly from the BarCloud mobile app.
Route tracking allows you to track:

Transported Assets
Route traveled on a map
Distance traveled
Time duration
To learn more about the new feature visit: http://www.asapsystems.com/barcloud/asset-routing.php
About BarCloud
BarCloud provides industry leading inventory management and asset tracking systems that use barcode technology with barcode scanners, smartphones, and tablets. BarCloud has helped thousands of organizations improve profitability by eliminating manual data entry, paper files, and forms through automatic inventory transactions. With the online inventory and asset system, businesses can view and track asset and inventory movement 24/7, from the warehouse, off-site, and in the office.