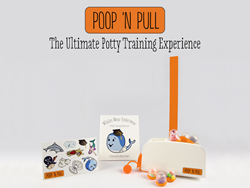 Two days after we created the Poop 'n Pull, our son couldn't wait to go on the potty.
Denver, Colorado (PRWEB) March 26, 2015
Sixty years ago, more than 90% of children were potty trained by the age of 18 months. Now, the process takes an average of 36 months because parents are too busy, not patient enough and frustrated about it. The startup founders have used their own experience to come up with an idea that transforms every parent's nightmare into a fun and interactive activity.
The Poop 'n Pull is different from all other potty training products currently available on the market. The package consists of a small reward dispenser hung on a bathroom door out of child's reach. The Poop 'n Pull is preloaded by a parent with reusable reward capsules and ready for pulling immediately after a successful potty experience. The capsules can be filled with small toys, stickers or other rewards that will engage a little pooper.
The Poop 'n Pull experience also includes an illustrated children's book titled "Whales Wear Underwear" and a sticker sheet featuring characters from the book for the parents and child to decorate the dispenser together. The Poop 'n Pull helps parents create a sense of achievement for their kids and themselves by reaching potty training goals fast.
"We spent over a year attempting to potty train our son with little success and a lot of frustration. Two days after we created the Poop 'n Pull, our son couldn't wait to go on the potty." Recalls Heather Moffatt, a co-founder at KisimoKids and a mother of two.
After discovering the "secret weapon", she, and her husband Josh, wanted to share their success story with others. With the help of some friends, Heather and Josh started making the Poop 'n Pull and selling them on etsy.com. The product has been a big success and is constantly getting rave reviews from customers.
Now, the creators of the Poop 'n Pull want to start mass production of the device to help as many parents, caregivers and children as possible. In order to fund the expansion, they are launching a campaign on Kickstarter.com on March 24. The entrepreneurs believe in the power of community support and want to let the consumers decide the product's future. The project's backers have an opportunity to pre-order the Poop 'n Pull on Kickstarter starting at $24.
Americans throw away 570 disposable diapers per second. Besides the huge negative impact on the environment, it means hundreds and thousands of dollars in expenses for a family per year. By supporting the Poop 'n Pull Kickstarter campaign, parents will save money and speed up the potty training process while creating a positive, guilt-free atmosphere for their little ones.
To learn more about the Kickstarter campaign, visit http://www.poopnpull.com/kickstarter
To download images, logos, and videos, visit: http://www.poopnpull.com/press
Contact Heather & Josh by email: josh.moffatt@poopnpull.com or by phone at (303) 946-1823.