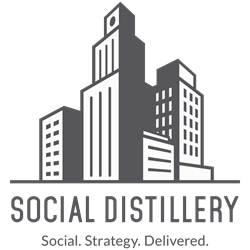 AUSTIN, TX (PRWEB) March 24, 2015
Social Distillery, a social media agency, today announced the continuation of solid company and client growth. Founded in 2011, Social Distillery has steadily expanded each year. With revenue nearly doubling in 2014, the addition of significant new hires, and recent client wins of marquee social brands, the agency is on track for another year of success.
In response to significant company growth, Social Distillery recently named Josh Shepherd as director of strategy and Amanda Hoang as account manager. Josh brings extensive digital marketing experience to the team and will be responsible for the overall management and delivery of client strategic services. Amanda comes from a strong agency background, having held roles at Harte Hanks and GSD&M, and will support paid media and client service efforts at the agency.
Recent agency milestones include:

New client acquisitions of leading social brands, including JW Marriott Austin, Resignation Media (theCHIVE), and Oncor, as well as expanded relationships with American Music Water and Farm Credit Bank of Texas
Recognition as a HUB certified business
Staff growth of over 40 percent
New SaaS technologies to support social data intelligence, paid media success and content development
"Our continued growth is evidence of the increasing role social media is playing in brands' ability to better connect with their audiences in a compelling and timely way," said Kristen Sussman, president and founder of Social Distillery. "Having expanded our team to 10 employees in the first quarter of this year, coupled with a 45% increase in client growth, we are excited for what the rest of 2015 holds."
For more information about Social Distillery, visit http://socialdistillery.com.
About Social Distillery
Social Distillery is a social media agency headquartered in Austin, TX and founded by two alumnae of the acclaimed Masters of Advertising Program at The University of Texas at Austin. The team of social media experts comes from prestigious advertising agencies and has worked with brands including AT&T, PurinaONE, Edelman, Hilton, Stubb's Bar-B-Q Sauce and LIVESTRONG. The breadth of collective experiences delivers a strategic advantage for clients through social advertising, content strategy, blog creation, community management and campaign ideation.
Media Inquiries:
Sarah Rose
Social Distillery
Phone: 908-334-6049
Email: srose@socialdistillery.com