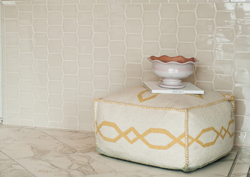 This is the most exciting product launch in Mission's history, says Oropeza.
Nashville, TN (PRWEB) March 25, 2015
Mission Stone & Tile, the premier luxury retailer, importer, and distributor of natural stone, ceramic, and porcelain tile collections in Nashville, TN, is proud to introduce the latest design innovation from founder and CEO Mary Elizabeth Oropeza.
Essential? Yes. Expected? Never. Perpetually popular subway tiles undergo a design evolution in this versatile collection. Contemporary neutrals, must-touch textures, and geometric influences define this new incarnation of subway tiles that's basic and bad ass all at once. Essential is sleek, chic, and surprisingly unique.
"The Essentials" Collection represents a new generation of subway tiles, incorporating the classic sensibilities of its for-bearers beloved by designers with unique features, including: innovative and intriguing geometric configurations, contemporary neutrals, and most notably, tactile designs that consumers will have to feel to believe.
"We're thrilled to introduce the world to "The Essentials" line over the coming months," said Oropeza. "This is the most exciting product launch in Mission's history, and we think our customers are going to love the charm, versatility, and touchability of these products.
Subway tiles have long been a classic in-home design staple, and "The Essentials" will give designers more exciting, modern options for subway tiles without losing their timeless style."
The Essentials Subway Tiles are available for purchase immediately both in Mission's two retail store locations and through the Online Store. They come in seven beautiful, neutral colors, with five textures to choose from, including: pin stripe, pin point, diamonds, honeycomb, and smooth.
These ceramic tiles offer endless mix-and-match options and easy installation for back splashes and wall installations that can transform any kitchen or bathroom.
"Mission's proprietary products have always been designed with the idea that hard surfaces can be interactive design elements for consumers," explained Oropeza. "The success of the Beveled Arabesque showed us how much people loved a fashion-forward, three-dimensional element on their walls, and The Essentials line goes even further by inviting you to touch the simple, stylish, tactile designs. Subway tiles are very trendy right now because they fit in every style of home – from big city lofts to farm houses. We think people are going to love our next generation subway tiles: it's a modern, fashionable take on a classic concept that doesn't lose its versatility."
"We're also proud that The Essentials line will, like everything Mission sells, be an affordable product. When I started my company 9 years ago, it was with the belief that quality tile, whether it's stone or ceramic, new or vintage, should never be out of anyone's reach."
ABOUT MISSION STONE & TILE
Mission Stone & Tile was founded by tile industry veteran and interior designer Mary Elizabeth Hulsey Oropeza. Started with the goal of providing the highest quality luxury tile at wholesale prices, Mission is the culmination of Mary Elizabeth's 20 years of experience in the stone and tile industry. Mission is a full-service stone and tile retailer and distributor dedicated to meeting the needs of designer, architectural, builder and contractor clients.
Mission Stone & Tile showrooms are true design resource centers - light, open spaces filled with samples to inspire custom designs.
Locations are open weekdays between 8:30 and 4:30. Mission Stone & Tile's online store is accessible anytime at store.missionstonetile.com.
Mission Stone Tile - Headquarters and Nashville Showroom
2930 Sidco Drive
Nashville, TN 37204
T: (615) 244-6448
F: (615) 244-6508
E: info(at)missionstonetile(dot)com
Mission Stone Tile – Chattanooga Showroom
55 East Main Street Ste 102
Chattanooga, TN 37408
T: (877) 529-8453
E: chatt(at)missionstonetile(dot)com