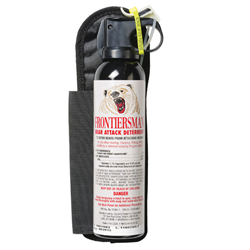 Education is incredibly important to us, and our partnership with Backpacker will allow us time with consumers to help educate them.
Chicago, IL (PRWEB) March 25, 2015
SABRE products will be featured on Backpacker's 15th annual Get Out More Tour as the go-to safety brand for outdoor activities. The tour, traveling to over 60 U.S. locations, is described by Backpacker as "an interactive mobile media and education outreach program designed to inspire readers and encourage participation in active outdoor pursuits."
On the tour, Backpacker's ambassadors Keith and Becky Unruh will stop by specialty outdoor retailers who value outreach, education and top-quality products. At each location, the Unruhs will spend an hour and fifteen minutes covering crucial talking points about the outdoors, including trip planning and safety advice.
SABRE CEO David Nance says, "Education is incredibly important to us. We take pride in making sure our customers have many opportunities to learn how to properly and effectively use SABRE products. The Get Out More Tour and partnership with BackPacker Magazine allows us to get our practice sprays in front of the customer so if they ever have to use pepper spray to defend themselves, they'll have some crucial experience."
The Get Out More Tour will highlight SABRE's elite bear and dog sprays - must have products for those looking to explore the outdoors with confidence. SABRE's Frontiersman bear sprays give the user protection at up to 35 feet away from an attacking bear, the maximum range in the industry. Protector dog sprays also provide protection at a safe distance, 12 to 15 feet away, and boast the maximum strength pepper spray allowed for use by both the EPA and Health Canada. SABRE's animal sprays are humane and effective providing protection without lasting effects.
To learn about tour specifics including individual dates and locations, visit http://www.sabrered.com/backpacker. You can also follow SABRE on Facebook (SABRE - Security Equipment Corporation), Twitter (@sabrered) and Instagram (@sabresafety).
About SABRE: SABRE - Security Equipment Corporation is the #1 brand of pepper spray trusted by police and corrections officers worldwide. SABRE is the world leader, and the exclusive choice of law enforcement agencies including the New York Police Department and the Los Angeles County Sheriff's Department. The brand's diverse brand of personal safety products includes bear sprays, dog sprays, personal alarms, home security and more. Learn more at http://www.sabrered.com.