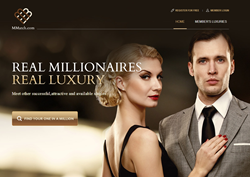 New York City, New York (PRWEB) March 24, 2015
When it comes to dating, most people love the idea of courting millionaires. Good news is that there are special sites that cater to this category of people. They are the CEOs, doctors, lawyers, professional athletes, professional models, entrepreneurs and investors and even celebrities.
To affirm this, the website, MMatch.com, has been created for certified millionaires to connect and find their soul mates with ease. According to a recent report, there are about 9.63 million millionaires. This is approximately 1.7% of the United States population. This shows that there is less chance of meeting single millionaires because most them work a lot of hours.
Dating websites are essential for nervous and shy people. Users circumvent the pressure of meeting people face to face at the initial stage. MMatch.com offers the advantage of a relaxed atmosphere which gives the opportunity to think before blurting out everything that jumps into your head.
Dating rich men and women has been made easy with the internet and the advent of MMatch. They cut down the physical barriers, making it possible for people all over the world to mingle freely.
MMatch has made it easier for single millionaires to conveniently find their soul mates with the help of their website. The site only caters to certified millionaires, so users can rest assured that they are connecting with someone of high status.
Online dating is safe, secure and fun. Users will have the freedom to take a relationship further only when they wish to and without any form of pressure. MMatch.com, the best millionaire matchmaker, is solely a dating website for rich singles.
The website is not a sugar daddy dating site. MMatch doesn't involve in a sugar daddy or an arrangement style relationship. Users can also download the app to freely connect with others on the go.
For more information about the luxury dating site for certified singles, please visit - http://www.mmatch.com