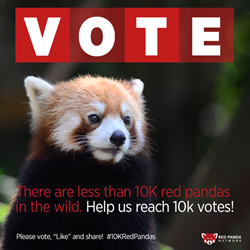 San Francisco, CA (PRWEB) March 26, 2015
The 10-second vote to help save the cute red panda is just one click away. Red Panda Network, the 501(c)3 not-for-profit organization devoted to wild red panda conservation, announced its participation in an online voting competition for $30,000 in funding, through the European Outdoor Conservation Association. Red panda lovers can vote for the project titled, "Conserving Red Pandas, Nepal" on the EOCA Web site, by March 30 at 7AM (EDT) to vote for red panda conservation.
"We want red panda fans to know about this unique philanthropic opportunity," said Brian Williams, founder of Red Panda Network. "So many people love the cute red panda, but not everyone has time to volunteer or funds to donate. This vote lets anyone with Internet access participate in conserving red pandas."
Red Panda Network Country Director, Ang Phuri Sherpa added, "EOCA is a wonderful organization and we are proud to participate in their contest. If Red Panda Network wins, 100% of the funds will go directly toward our community-based conservation initiatives in eastern Nepal, benefitting the local people and the red pandas. By default, our work will also help endangered species that share red panda habitat."
The number one threat to red pandas is habitat loss and fragmentation, caused by deforestation, agricultural farming, forest fires, road development, illegal logging and several other factors. Red pandas consume up to 250,000 bamboo shoots per day, favoring the bamboo-thicket understory found in temperate forests. The global red panda population is distributed across Nepal, India, Bhutan, Myanmar and there is a subspecies found in China. Demand for red panda hides is on the rise, and illegal hunting and poaching are also key factors in the red panda's race for survival. To make matters worse, cute red panda cubs have a high mortality rate (50% or higher) which adds an additional challenge to survival of the species.
About Red Panda Network
Red Panda Network is committed to the conservation of wild red pandas and their habitat through the education and empowerment of local communities. Red Panda Network has 54 Forest Guardians who monitor and protect red panda habitat in eastern Nepal. The nonprofit mobilizes the people living nearest red panda habitat to create and manage Community Forest User Groups that enforce sustainable practices in livestock rearing practices, use of bamboo and forest resources, and ecotourism. Red Panda Network also leads ecotrips in red panda habitat to build awareness for the species. International Red Panda Day is celebrated at hundreds of zoos across the world, on the third Saturday of September, each year.
For more information, please visit http://www.redpandanetwork.org.
Contact: Nicki Boyd
Chair of Red Panda Network
Nicki.Boyd(AT)redpandanetwork.org
(619) 481-2981