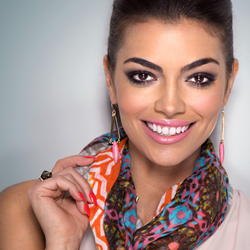 The Fitness Edit welcomes Pointe Studio, Mono B, and BIFF IT.
Milwaukee, WI (PRWEB) March 24, 2015
Wantable, Inc., a leading discovery service for makeup, accessories, intimates, and fitness, announces April Collections. The April Makeup Collection welcomes Habit, Doucce Cosmetics, and Lashem. April's Accessories Collection introduces Rebecca Michaels Violet Love Headbands. The Intimates Collection features Ellen Tracy and the Fitness Edit welcomes Pointe Studio, Mono B, and BIFF IT.
New to April Makeup Collections is a line of polish from Habit. This 5-free polish is vegan, cruelty free, gluten free, and contains a natural strengthening formula with myrrh extract. Also new is Doucce Cosmetics with lipsticks and Lush Lip Glosses. The Collection also features Lashem, an unstoppable mascara for that doe-eyed look. Cattiva and Vincent Longo are back this April with shadows, and brow experts Chella is back with the Brow Tool Kit.
The April Accessories Collection features Rebecca Michaels Violet Love Headbands in fun and vibrant prints. April's pieces vary from delicate and refined to angular and distressed so there's something for every style. With summer on the horizon, there are also sunglasses in a variety of bold hues.
The April Intimates Collection is a delectable mix of sassy and sweet. On the sweet side are bralette sets in soft colors. On the sassy side is a sleek caged bra with zip closure, stunning babydolls, and distressed denim leggings from Ellen Tracey.
Wantable's newest personal styling service is the Fitness Edit. Unlike the Makeup, Accessories, and Intimates Collections, the Fitness Edit sends customers five premium fitness apparel items to try on at home. This month, the Edit welcomes Pointe Studio, Mono B, and BIFF IT. The Fitness Edit is a monthly subscription, but can be skipped or canceled at any time. Edits is currently only available to customers in the 50 U.S. states.
Wantable, Inc.'s April Makeup, Accessory, and Intimates Collections are available online from March 24 to April 23. Please visit http://www.wantable.com for more information.
About Wantable, Inc.
Wantable offers a personal shopping service online, delivering handpicked assortments of specialty products to busy women on a reoccurring basis.
Each month, in-house and guest curators handpick beauty, fashion accessories, intimate apparel, and fitness apparel from hundreds of quality boutique, specialty, and premium vendors to ensure that each collection is filled with the best on-trend items every month. Wantable offers Makeup, Accessories, and Intimates Collections, along with a Fitness Edit.