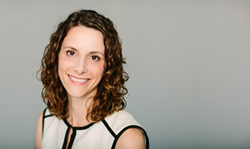 Harmony NIPT includes a precise measurement of the amount of the developing baby's DNA in each sample
Vancouver, BC (PRWEB) March 24, 2015
"We have switched to the Harmony NIPT test because we feel it is the most reliable test for our patients," explains Dr Beth Taylor, co-director and head of the NIPT program at Olive Fertility Centre. "The Harmony NIPT also allows us to be in line with the BC Prenatal Genetic Screening Program, Perinatal Services BC and to offer NIPT at a much more affordable price."
NIPT, unlike other early prenatal tests which include a combination of ultrasound and maternal serum screening, can actually test the DNA of the developing fetus using a simple blood draw from the mother. This means that it is much more accurate (>99%) than current tests and does not have the high rate of false positives and negatives. Harmony has taken the accuracy rate one step further by measuring the fetal fraction level in the mother's blood sample ensuring that there is sufficient fetal DNA.
"I feel very reassured that the Harmony NIPT includes a precise measurement of the amount of the developing baby's DNA in each sample," says Rachel Butler, genetic counsellor, at Olive. "This ensures that there is enough DNA present to get a reliable result and minimize any false positives. Not all DNA-based genetic tests provide this level of precision."
The Harmony NIPT includes:

A fast turn-around-time
High accuracy
Analysis for T21, T18, T13, X, XXX, XXY, XYY and fetal sex
Patients using sperm and egg donor
Both singleton and twin pregnancies
Blood draw 10 weeks onwards
Genetic Counselling services
Olive is also pleased to offer DROP-IN NIPT services for patients Monday-Friday 7am-2:30pm for patients interested in NIPT without genetic counselling. Patients can self-refer by calling the Olive NIPT line at 778-945-0997 or emailing nipt@olivefertility.com
Olive Fertility Centre, http://www.olivefertility.com, is one of Canada's largest fertility clinics, offering an advanced IVF lab, personal care teams, and innovative programs that include the EmbryoScope, comprehensive chromosome screening (CCS), egg freezing, and prenatal NIPT testing.