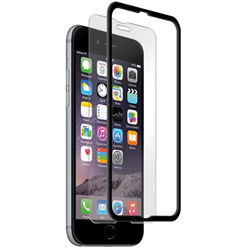 Lehi, Utah (PRWEB) March 24, 2015
BodyGuardz, leader in mobile device protection, announces the availability of ScreenGuardz Pure® + The Crown™ including a special upgrade opportunity for registered Pure users.
A Patent-pending exclusive from BodyGuardz, The Crown is a custom-molded aluminum rim that has been engineered to protect the curved edges of screens for today's hottest mobile devices.
Traditional glass screen protection has run into issues with rounded-edge devices because glass cannot bend. Until now, the solution has been to either decrease the size of the screen protector and deal with a significant gap, or increase the size of the screen protector which leaves a "halo," or overhang where the screen protector does not adhere to the curvature of the screen. Both options leave the edges vulnerable and exposed to cracks or chips.
Designed to fit seamlessly around ScreenGuardz Pure and flush with the edges of the phone, The Crown is an elegant, protective solution unlike anything on the market.
"We are extremely excited for our customers to get their hands on The Crown. It's a beautiful product that doesn't just mask the issue of rounded edge screen protection, but solves it," said Kirk Feller, President and CEO of BodyGuardz.
ScreenGuardz Pure + The Crown is available now for the iPhone 6 ($39.95) and iPhone 6 Plus ($44.95).
BodyGuardz is also extending a special upgrade opportunity to customers who have already purchased ScreenGuardz Pure for their iPhone 6 or 6 Plus. For a limited time, registered customers can upgrade to ScreenGuardz Pure + The Crown for only $16.95. More information can be found by visiting http://www.bodyguardz.com/the-crown.
About BodyGuardz
Founded in 2002, BodyGuardz is committed to offering top-quality products and services at a competitive price. The company prides itself in providing products, service and delivery that customers notice as a step above the rest. BodyGuardz designs reliable mobile device accessories that keep up with today's active lifestyles. Learn more about BodyGuardz by visiting http://www.bodyguardz.com, http://www.facebook.com/BodyGuardz or Twitter @bodyguardz.