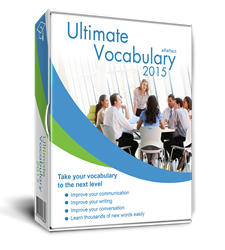 To ensure communication is unambiguous, people everywhere should think about ways to improve vocabulary, something that is a proven way to help eliminate misunderstandings.
New York City, NY (PRWEB) April 07, 2015
Ultimate Vocabulary, eReflect's leading vocabulary software, helps people improve their vocabulary through fun activities and expertly-designed games. As part of a series of word-related informational posts, the editor of the official software blog has started a conversation about the usefulness of business word. In the post, an important question is raised: Does business jargon facilitate, or impede, communication in business? Words and phrases such as "massaging data," "architect a strategy," and "actionable information" are among the jargon-heavy phrases under scrutiny.
eReflect helps students and professionals speak with clarity and eloquence through vocabulary building. Every activity and game in Ultimate Vocabulary aims to help people use language in a way that's effective and immediately understood by others. As eReflect's editor points out in a the new blog post published on the software's official website, this is not the result when people use trending business jargon. Sentences such as, "How about we touch base this Tuesday after the 10am meeting?" and "We're solutioneering the data collection issue before we re-launch the software" obscure meaning and prevent effective communication.
Instead of using fancy words that only create noise, people should opt for unambiguous ways to communicate, especially in corporate contexts where investments, strategies, and project are at stake. The Ultimate Vocabulary editor explains this further, saying, "But then on the other hand, you will also hear phrases like, 'Lay the foundation for groundwork,' which is simply a pompous way of saying 'prepare.' Of course you can 'liaise' with Daniel from the Payroll department, but you could also simply talk, meet, or discuss things with him. 'The long pole in the tent' is a way of saying the most difficult part of a situation or project, so why not call it that?"
Ultimate Vocabulary asserts that whenever jargon is the only possible way to describe a concept or a situation, it should be used, but when there are simpler ways to make a point, then people should always opt for them.
The Ultimate Vocabulary editor distinguishes between useful, essential jargon and pretentious, meaningless jargon by providing two examples. To illustrate the first, the editor cites the use of the word "cloud" to refer to the centralized yet behind-the-scenes computing infrastructure of the 21st century. As an example of useless jargon, the phrase "architect a sales strategy" is used. As a proponent of clear communication, eReflect argues these two benchmark examples should be the reference point for whether to use jargon or not. To ensure communication is unambiguous, people everywhere should think about ways to improve vocabulary, something that is a proven way to help eliminate misunderstandings. The more concepts a person has words for, the easier it will be to choose the best - and the simplest - word at any given time.
***********
For more information on how you can benefit from Ultimate Vocabulary, please visit its official website, http://www.ultimatevocabulary.com.
About Ultimate Vocabulary™
Ultimate Vocabulary provides a proven and powerful platform, built to improve anyone's vocabulary.
The interactive self-improvement system provides more learning tools than any other program on the market, as well as more information on words.
The Ultimate Vocabulary software provides each and every user with a personal computer tutor. Providing a step-by-step guide to learning a powerful vocabulary, Ultimate Vocabulary is the learning tool everyone can benefit from.
Of course, the software is also backed by eReflect's iron-clad money back guarantee.