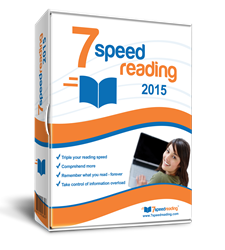 ... master the skills and knowledge necessary for improving their literacy and to catch up with their classmates in terms of skills and literacy level.
New York City, NY (PRWEB) April 01, 2015
eReflect announces that 7 Speed Reading applauds the initiative of the Singapore Ministry of Education to expand its educational program for people with dyslexia in sixty more primary schools across the country this year. 7 Speed Reading is the ultimate speed reader program because it helps people improve their reading skills so that they can advance in their academic and personal life. As stated in the [Straits Times, the initiative by the Singapore Ministry of Education to extend its dyslexia program to sixty more schools across Singapore is well received by eReflect and 7 Speed Reading, two entities that promote and support educational initiatives and offer self-learning resources.
The school-based Dyslexia Remediation Programme is a two-year intervention program that was first rolled out in 2012. The Remediation program helps young 3rd and 4th grade primary schoolers to master the skills and knowledge necessary for improving their literacy and to catch up with their classmates in terms of skills and literacy level.
The program consists of extracurricular classes for students with dyslexia. Thanks to its recent expansion, the program will now be available to two thirds of Singapore's primary schools, covering the great need for specialized intervention programs that empower students with reading difficulties.
The program seems to already show the positive impact it has on the learning skills of people with dyslexia. The students that participated in the program in 2012 had an improvement in their literacy skills of spelling and reading. According to Straitstimes.com, these students had a literacy advancement equal to two and a half years in reading age, a substantial improvement in this crucial life skill. These students are able to connect letters with sounds much more easily, which means reading faster than before.
eReflect, who has developed one of the best speed reading programs in the world, applauds the Ministry of Education of Singapore for this willingness to include more students with learning difficulties in an intervention program led by Allied educators and teachers with specialized training. The expansion to sixty more schools is expected to benefit more than 290 young students. Plans to make it available across Singapore are to take effect in 2016.
For more information about the benefits of using 7 Speed Reading, please visit the official website at http://www.7speedreading.com.
About 7 Speed Reading™
7 Speed Reading is the only modern speed reading software that uses the latest technology to produce superior results.
The software provides its users with a new way to master speed reading that guarantees three times the reading speed along with improved memory and comprehension.
The software is poised as the most comprehensive speed reading system anywhere. It contains seven learning strategies, fifteen software activities, video training, advanced tracking capabilities and many more exciting features.