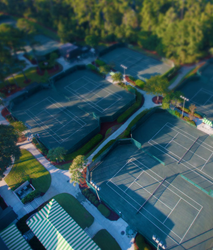 2015 Bliss Award Winner for Best Tennis Community of the Year
Savannah, Georgia (PRWEB) March 25, 2015
When it comes to the love of tennis, it's hard to beat The Landings Club in coastal Georgia. To Real Estate Scorecard, it's the grand slam of the Southeast. It's the nation's largest residential clay court facility with 34 courts and stadium seating. The Savannah community with over 3,000 club members has 3 tennis facilities and a busy tennis academy within their Savannah country club.
THE LANDINGS CLUB TENNIS CENTERS
Franklin Creek Tennis Center with 20 Har-Tru courts, one hard surface court and stadium seating for 500
Marshwood Tennis Center - 8 Har-Tru courts & 2 Platform Tennis courts
Oak Ridge Tennis Center - 4 Har-Tru courts adjacent to the wellness center
From April 18-26, 2015, the Savannah Challenger is set to attract the top names in tennis to the Franklin Creek Tennis Center to compete on the ATP Tour. More tennis tournaments within the Savannah community over the past year included the USTA National Men's 55 Clay Court Championships, USTA Super Senior State Championship, and the TsuNAMI Tournament.
The Landings Tennis Academy is the first of its kind and is designed around players of all ages and skill levels. Programs include Tennis 101, Rusty Racquets, and Tennis Schools of all types. What's new? In 2015, the Landings Club Play Smart Court on-court software providing real-time and after-action review with complete debriefing solutions, auto stats, bio-mechanical analysis and 3-D tactical game management.
The Nike Tennis Camp takes place at The Landings Club during the summer, from June 8 - July 17. The camp is geared towards players between the ages of 7-18 and all ability levels.
Awards and accolades over the years include:
2013 Georgia Power Sporting Event of the Year award for the Savannah Challenger
2011 USTA Member Organization of the Year award
2009 USTA Tennis Event of the Year for the Savannah Challenger
2008 USTA Team Tennis Event of the Year
The Landings is a super-sized Savannah country club spread across Skidaway Island in the Lowcountry of Georgia. The gated community has approximately 8,500 residents with over 100 self-organized social clubs. Amenities include 6 championship golf courses, 4 clubhouses with dining, 2 deepwater marinas, a wellness center, community parks and 40 miles of walking trails. Property owners are required to join the club to access the amenities and equity membership fees are non-refundable. The Landings Club offers five types of membership : Full (golf), Athletic (tennis), Social, House, and National (part-time residents 75+ miles away).
The Landings Club - 2015 Membership Fees
Full Club/Golf Dues - $689.50 per month & $28,000 equity membership fee
Athletic/Tennis Dues - $364.25 per month & $5,000 equity membership fee
Social Dues - $260.00 per month & no equity membership fee
House Dues - $237.50 per moth & $4,000 equity membership fee
National Dues - $283.33 per month & $3,000 equity membership fee is available to non-property owners only and provides 28 days of full privileges.
The Landings Club imposes an additional $65 a month house charge for all club memberships except the National. Private golf carts and leased golf cart fees range from $152.50 - $305.00 per month. Of course all of these fees are subject to change. HOA fees are low at approximately $1,670 a year. In a nut shell, it would cost a property owner under age 75, $568.14 per month to access the tennis club with full privileges (including the master HOA fee). Full golf membership is more. Since 2010, the equity membership fees have decreased making it a better time to become a member. Overall, The Landings Club 2015 membership fees are reasonable to Real Estate Scorecard after comparing over 360 master planned communities.
Home prices range from $150k to over $700k. The average home price is around $490k. Over the years, we've watched the club continuously improve itself and its amenities. Property owners enjoying living at The Landings because it puts them far enough away from the congestion of big city yet they can be downtown Savannah in about 20 minutes when they want to enjoy the exciting festivals along the riverfront or attend lifelong learning courses at the Savannah College of Art & Design. Sun worshippers can beach comb and enjoy the seashore at the Tybee Island beaches, about 40 minutes from the Savannah community. The nearest hospital is 10 miles away and the Savannah-Hilton Head International Airport is 29 miles.
About Real Estate Scorecard:
Real Estate Scorecard writes unbiased real estate reviews providing in-depth information about popular master planned communities in Florida, Georgia, the Carolinas, Tennessee, and Central America, all in an effort to help people discover where to retire in the South.
Website: http://realestatescorecard.com