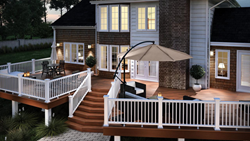 Symmetry Railing provides the design versatility and long-wearing durability that homeowners and professional builders have been seeking
New London, NC (PRWEB) March 25, 2015
New Symmetry™ Railing from Fiberon® combines the best composite railing technologies into one strong and stylish system. Launching April 1st, Symmetry is a state-of-the-art composite featuring a flat, drink-friendly top rail supported by a sturdy aluminum sub-rail. This unique reinforcement delivers added support and safety without any sagging. Symmetry's refined lines and elegant matte white finish complement any architecture, while its spanning capabilities up to 12 feet enhance design flexibility and improve sight lines. Installation is quick and easy, thanks to an intuitive bracket design. Unlike wood railing, Symmetry will never splinter, crack, or decay. There's no costly, time-consuming maintenance, either.
The benefits don't stop there. When installed by a qualified FiberPRO Premier or Select contractor, Symmetry Railing also comes with an exclusive five-year limited labor warranty. This coverage is in addition to Symmetry's industry-leading 25-year limited performance warranty, and gives homeowners even greater peace of mind.
"Symmetry Railing provides the design versatility and long-wearing durability that homeowners and professional builders have been seeking," notes Fiberon CEO Doug Mancosh. "This product truly sets a new standard in the composite railing category."
Fiberon composite decking and railing products are sold to professional contractors and property owners through a national and international network of distributors and retail outlets. To learn more, visit http://www.fiberondecking.com or call 800-573-8841.
About Fiberon
Fiberon is a leading manufacturer of wood-alternative decking, railing, and fencing products available around the globe. Through cutting-edge, American-based manufacturing, Fiberon has created new benchmarks for innovation in outdoor living products. The company is a leader in sustainable practices, with innovative manufacturing processes that capture 98.5% of waste materials, and divert 50,000 tons of wood and plastic from landfills each year. Fiberon, a proud sponsor of NADRA (North American Deck and Railing Association), is privately owned with operations in North Carolina and Idaho. For more information, visit http://www.fiberondecking.com and follow Fiberon on Facebook, Pinterest, Twitter, and YouTube.