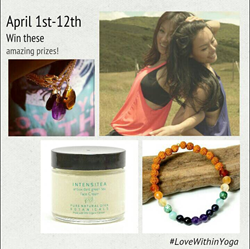 Miami, Florida (PRWEB) March 25, 2015
BaliniSports is teaming up with four of its brand ambassadors to launch the #LoveWithinYoga challenge this spring. Four brand ambassadors will upload yoga poses to Instagram so that contestants can upload their own variations of each pose. Entries will qualify as long as they are tagged with the hashtags #BaliniSports and #LoveWithinYoga. Creativity and humor are encouraged.
"We are so excited to give our followers a chance to get creative, get active, and win some really amazing prizes," said Ada Hung, founder of BaliniSports. "We really want to encourage everyone to have fun with this by tagging their friends and inviting them to play along. You never know, you just might become the next online sensation if your pose is a hit."
The contest, which runs from April 1st to April 12th, is a collaboration between BaliniSports and the brands Natural Diva, Mary Caroline Jewelry, and Jeanne Verger Jewelry. The winner will receive gifts from all the brands, as well as online recognition.
"Our amazing sponsors have agreed to present the winner with some very generous gifts," said Hung. "Of course, everyone wins by simply uploading a photo because you're helping to spread awareness about yoga and get your spring off to a fun, healthy start."
BaliniSports is a yoga apparel company that produces eco-friendly, socially conscious pieces. The brand has been featured in Lucky, Shape, Fit Pregnancy, Muscle & Fitness Hers and a variety of other publications. Anyone interested in participating in the #LoveWithinYoga challenge can follow BaliniSports on Instagram for full details.