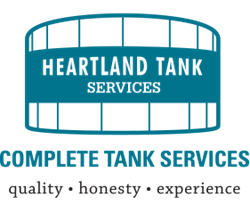 We pride ourselves in being professional, honest, and transparent; we want our customers to have the best product at the best price.
Englewood, CO (PRWEB) March 24, 2015
In a move to provide the best value and return on investment (ROI) possible for its products, Heartland Tank Services, Inc. is now encouraging its customers across the country to take advantage of falling steel prices by investing in a new steel storage tank.
According to Genevieve Bruce, Marketing and Legal Analyst, the above ground storage tank specialists at Heartland Tank Services, Inc., the sales and marketing company for Heartland Tank Companies, have been reaching out to customers as early as February to inform them of a major trend taking place in the steel industry: prices are continuing to decrease.
"We have been carefully monitoring the price of steel because our products are made entirely of steel," Bruce says. "Industry professionals and market analysts predicted at the end of 2014 that price of steel would rise significantly, yet this was not the case -- steel's market value fell. Then in the first quarter, the price fell again. The recent decrease in oil prices is not helping to stabilize prices either."
And lower steel prices mean a lower-priced end product for the customer, which is why Heartland Tank Services is actively informing its customers in the liquid fertilizer industry of the news.
"We have already started calling customers back to re-quote their original estimates and saying the ROI is better and prices are more in their favor," Bruce explains. "We've seen customers come back and be more willing to purchase a tank, because it's always about what you can afford and making sure you're meeting your bottom line. Lower prices make people say 'yes' instead of 'I don't know.' We pride ourselves in being professional, honest, and transparent; we want our customers to have the best product at the best price."
Bruce says customers are advised to make an investment now, while steel prices are still low. As soon as a customer places an order, Heartland Tank, LLC, the tank construction company of Heartland Tank Companies, immediately purchases the steel for the tank, taking away any potential price volatility; customers can be assured they'll pay the price that was advertised even if there is a later price jump.
"It's encouraging that people are seeing the different prices and understand that now is the time to make the investment," she says. "[Steel is] like any commodity: it's difficult to predict, and when prices go down that's when people have their golden moment to make an investment with a new purchase."
About Heartland Tank Services, Inc.
Heartland Tank, LLC and Heartland Tank Services, Inc. are separate companies that were simultaneously formed to address the need for alternative methods in quality design and fabrication of API 650 tanks in the agricultural industry as well as alternatives in secondary containment and the ever-increasing need for API-certified tank inspectors. Today, Heartland Tank Companies work together to provide a wide range of above ground storage tank solutions. Their services include field-erected API 650 tank construction, tank repair and modification, internal PVC tank liners, API 653 tank inspections, and more. To learn more, visit heartlandtankservices.com