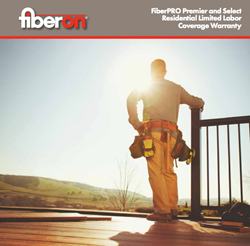 The FiberPRO program delivers tools and resources builders need to reach new customers and grow their businesses.
New London, NC (PRWEB) April 07, 2015
Homeowners and professional builders have another great reason to work with Fiberon: a new five-year limited labor warranty. Available only through FiberPRO Select and Premier contractors, this exclusive residential warranty ensures protection above and beyond Fiberon's industry-leading product warranties. For contractors, this is yet another business-building opportunity available through the recently-expanded FiberPRO program.
The leader in innovative composite decking and railing, Fiberon is taking its commitment to quality and reliability a step further. With this new coverage, if an eligible product fails to perform in accordance with its original warranty, Fiberon will pay reasonable labor costs associated with replacement. Coverage applies to Paramount™ Decking, Horizon® Decking, ProTect Advantage® Decking, and Symmetry™ Railing products sold in the United States and Canada.
For homeowners, the process couldn't be simpler. Upon purchase of a qualifying product, homeowners will receive a comprehensive welcome kit including a letter, customized labor warranty certificate, product warranty documentation, and care and cleaning instructions. In the unlikely event a problem arises, homeowners will have all the relevant information at their fingertips – another example of how easy and stress free it is to own Fiberon decking!
There are distinct competitive advantages for FiberPROs as well. Among them: coverage on a broad range of highly-popular products; warranty periods that extend far beyond what other decking companies offer; and visible proof of eligibility to share with customers, a powerful differentiator that may help FiberPROs generate more business and close more sales.
Now more than ever, it pays to become a FiberPRO: a deck-building professional recognized for expertise in working with Fiberon products. The FiberPRO program delivers tools and resources builders need to reach new customers and grow their businesses. In addition to the new warranty coverage, program benefits include a dedicated profile page on fiberondecking.com, qualified marketing leads, advertising support, and opportunities to earn marketing funds.
For more information regarding the new limited labor warranty and the FiberPRO program, visit fiberondecking.com/professionals
About Fiberon
Fiberon is a leading manufacturer of wood-alternative decking, railing, and fencing products available around the globe. Through cutting-edge, American-based manufacturing, Fiberon has created new benchmarks for innovation in outdoor living products. The company is a leader in sustainable practices, with innovative manufacturing processes that capture 98.5% of waste materials, and divert 50,000 tons of wood and plastic from landfills each year. Fiberon, a proud sponsor of NADRA (North American Deck and Railing Association), is privately owned with operations in North Carolina and Idaho. For more information, visit http://www.fiberondecking.com and follow Fiberon on Facebook, Pinterest, Twitter, and YouTube.