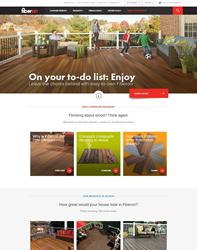 Every day we hear from homeowners who regret building wood decks because they didn't have access to the right information before making their product decisions.
New London, NC (PRWEB) April 01, 2015
Homeowners across Europe, Asia, Australia and the Americas now have easy access to helpful, credible decking advice. Today, industry-leading Fiberon Decking is re-launching its international presence through its website, fiberondecking.com. Featuring a bold responsive design (perfect for viewing on tablets, laptops and smart phones), the site will include 10 language options in addition to U.S. English. Today, those languages are Spanish, German, French, Dutch and Portuguese, as well as British English. Additional language offerings will be Polish, Greek, Czechoslovakian and Norwegian.
All too often, homeowners learn the hard way that woods decks simply can't compare to composites. With its lower maintenance, lasting durability and eco-friendly materials, Fiberon composite decking is simply a better long-term value than wood. To help homeowners make better-informed decking decisions, the new Fiberon website details the benefits of using composites, explains the design-and-build process, provides project photo galleries, and includes detailed product information across multiple categories. Content has been localized to provide the optimal experience for every international visitor. Now, after spending time at fiberondecking.com, homeowners can approach their deck building projects well informed and confident.
Fiberon hasn't overlooked its professional builders, either. Contractors will find technical resources and warranty information, along with a helpful "Where to buy" feature for locating nearby Fiberon dealers and distributors. For the do-it-yourself deck builder, the site offers installation guides, sample deck plans, and technical support information.
"Every day we hear from homeowners who regret building wood decks," notes Shellie Sellards, vice president of marketing for Fiberon. "Too many of them simply didn't have access to the right information before making their product decisions. Our international website provides the resources and content consumers need (in their native languages) to create long-lasting, easy-to-own outdoor living spaces."
About Fiberon
Fiberon is a leading manufacturer of wood-alternative decking, railing, and fencing products available around the globe. Through cutting-edge, American-based manufacturing, Fiberon has created new benchmarks for innovation in outdoor living products. The company is a leader in sustainable practices, with innovative manufacturing processes that capture 98.5% of waste materials, and divert 50,000 tons of wood and plastic from landfills each year. Fiberon, a proud sponsor of NADRA (North American Deck and Railing Association), is privately owned with operations in North Carolina and Idaho. For more information, visit http://www.fiberondecking.com and follow Fiberon on Facebook, Pinterest, Twitter, and YouTube.