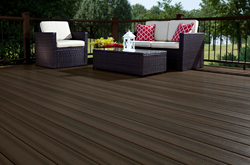 Today's design-savvy homeowners appreciate a range of color options in composite decking. With its exotic, tropical appeal, our new Earthstone color meets the demand for a sophisticated shade that will add a sense of drama to any surroundings
New London, NC (PRWEB) April 21, 2015
Homeowners have another exciting color option in high-quality PVC decking: Earthstone, the latest addition to the Fiberon® Paramount™ decking line. A rich, dark brown with multi-toned streaking, Earthstone is ideal for creating a sophisticated outdoor space, adding a contrasting deck border or interspersing with lighter boards for a dramatic, one-of-a-kind look. Designed to complement any residential architecture, Earthstone is especially well-suited for Mediterranean and Craftsman-style homes. Currently, it is available in western United States markets only.
As with all Fiberon Paramount deck boards, Earthstone is highly slip-resistant and resilient. The durable, co-extruded surface is bonded to the core, creating a hard-wearing yet lightweight, easy-to-handle board. There is no organic content to promote mold growth, and Fiberon Paramount offers exceptional resistance to moisture, dents, and flames (thanks to its Class B fire rating).
"Today's design-savvy homeowners appreciate a range of color options in composite decking. With its exotic, tropical appeal, our new Earthstone color meets the demand for a sophisticated shade that will add a sense of drama to any surroundings," notes Vice President of Marketing Shellie Sellards. "We are very excited to introduce Earthstone to our customers in the western United States, where these darker colors are especially popular."
In addition to Earthstone, the Fiberon Paramount decking line includes three other shades with multi-toned streaking (Brownstone, Flagstone, and Sandstone) as well as two solids, Mineral and Fossil. Fiberon composite decking and railing products are sold to professional contractors and homeowners through a national and international network of distributors and retail outlets. To learn more, visit http://www.fiberondecking.com or call 800-573-8841.
About Fiberon
Fiberon is a leading manufacturer of wood-alternative decking, railing, and fencing products available around the globe. Through cutting-edge, American-based manufacturing, Fiberon has created new benchmarks for innovation in outdoor living products. The company is a leader in sustainable practices, with innovative manufacturing processes that capture 98.5% of waste materials, and divert 50,000 tons of wood and plastic from landfills each year. Fiberon, a proud sponsor of NADRA (North American Deck and Railing Association), is privately owned with operations in North Carolina and Idaho. For more information, visit http://www.fiberondecking.com and follow Fiberon on Facebook, Pinterest, Twitter, and YouTube.