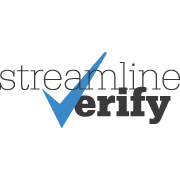 We want to capture the market that is looking exclusively at the DMF and be able to make their jobs easier and their work more efficient
Howell, NJ (PRWEB) March 24, 2015
Streamline Verify has announced that as of March 2, it has begun offering a new program that will make it easier for businesses in the life insurance market to check the Social Security Administration Death Master File.
"What started out as a client's request suddenly turned into a whole new discussion about what we can bring to the industry and how we can capture a new market," said Streamline Verify Director of Operations Jeff Josefovic.
The DMF database is the primary tool insurance companies use to determine if policyholders have died. Database screenings are required by law so that insurance companies stop billing deceased individuals and track down beneficiaries. There are between 80 and 90 million records on deceased individuals that insurance companies must maintain and check, which can be an onerous task from a logistical standpoint.
In response, Streamline Verify has created an application for accessing the DMF that is simultaneously comprehensive and user-friendly. "All we need is a Social Security number," Josefovic explained. "If that's not available, a search by name and date of birth will work as well." The system allows for either single queries or batch queries using Social Security numbers, names or dates of birth. The program will also allow users to track previous searches for individuals.
Streamline Verify is confident the new program will satisfy multiple search and documentation needs for its customers. It can handle instant searches for quick results, so that consumers won't need to comb through numerous results to find the information they're looking for. However, it also provides more robust reporting that can be useful in the auditing process; detailed reports are automatically and instantly generated for each individual search.
Josefovic emphasized the importance of carrying out the government-mandated screenings, saying that several life insurance companies have had fines imposed on them for not periodically checking the DMF and notifying beneficiaries, and said Streamline Verify is looking forward to making that process less time consuming. "We want to capture the market that is looking exclusively at the DMF and be able to make their jobs easier and their work more efficient," he commented.
The new program can also be customized, allowing life insurance companies to add on any additional databases they might need to consult.
Previously, Streamline Verify has focused its offerings on healthcare employee screening against Medicare and Medicaid exclusion lists. Josefovic said that the company would be able to offer more extensive compliance solutions by catering to this expanded market. "With this product, Streamline Verify will break into the life insurance industry, and we will be able to expand our market while also better servicing our clients," he concluded.
About Streamline Verify
Streamline Verify offers fail-safe, guaranteed OIG compliance with their screening process. Streamline Verify offers an exclusion screening process that is reliable, user-friendly, efficient, and affordable. To learn more, visit http://www.streamlineverify.com