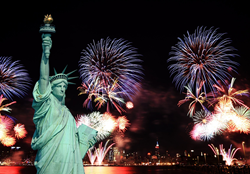 ...the perfect opportunity to celebrate America's independence with America's favorite past time.
New York, NY (PRWEB) March 25, 2015
Spring is in the air in New York City, which means it's time to start thinking about warmer weather plans. Baseball games, barbecues, and other summer activities are just around the corner. New York City Vacation Packages (NYCVP) has several different options available for Yankees Baseball and 4th of July vacations.
The Independence Day festivities start with a good old-fashioned BBQ over Broadway on the outdoor terrace of the Novotel Hotel's restaurant, Supernova. Classic picnic and barbecue foods will be served with sensational views of Broadway and Times Square below. After the BBQ ends at 3:30pm, there is a motorcoach tour of historic Manhattan ending at the pier on the Hudson River to start the scenic cruise portion of the evening. The premium vacation package option includes a private buffet dinner along with an open bar on World Yacht's Duchess. The ship ventures down river to the tip of Lower Manhattan offering views of the New York Skyline, the Brooklyn Bridge, and the Statue of Liberty. After the cruise, the ship will drop anchor to view the spectacular Macy's Fireworks display. The evening ends around 11pm, and motorcoach transportation back to Midtown Manhattan is provided. NYCVP's BBQ over Broadway options can be booked with or without hotel accommodations.
Nothing goes better with a BBQ than some baseball. NYCVP also has tickets available to select NY Yankees baseball games, and July 5th happens to be one of them--the perfect opportunity to celebrate America's independence with America's favorite pastime.
NY Yankees Baseball Vacations are also available for the following dates.

Sunday 7/5 vs Tampa Bay (1:05 game)
Saturday 7/18 vs Seattle (1:05 game)
Tuesday 8/4 vs Boston (7:05 game)
Wednesday 8/5 vs Boston (7:05 game)
Thursday 8/6 vs Boston (7:05 game)
Saturday 8/8 vs Toronto (1:05 game)
Saturday 8/22 vs Cleveland (1:05 game)
Saturday 9/5 vs Tampa Bay (1:05 game)
Each NY Yankees Baseball vacation includes reserved main level seats and round-trip transportation to and from Yankee Stadium on game day, hosted and escorted. For most games, tours will be escorted by famed Yankee Insider and author Chris Lucas, co-author of the soon-to-be released book Seeing Home: The Ed Lucas Story, published by Jeter Publishing.
For full details and information on the products mentioned, visit NYCVP's NYC 4th of July Picnic and Fireworks Cruise or NY Yankees Baseball Tickets & Vacations.
About NYCVP
New York City Vacation Packages has been a trusted NYC travel information authority since 1983 and is the only major independent tour company in the United States devoted exclusively to NYC travel. NYCVP offers services to make sure your custom New York City vacation is safe and secure, and is a member in good standing of NYC & Company (New York City's marketing and tourism organization), the National Tour Association, and the American Society of Travel Agents Tour Operator Program.