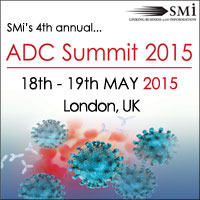 London, UK (PRWEB UK) 26 March 2015
Genmab is an international biotechnology company specializing in the creation and development of human antibody therapeutics for the treatment of cancer. Most notably, the company currently has one marketed antibody, Arzerra® (ofatumumab) for the treatment of certain chronic lymphocytic leukemia indications and daratumumab in late stage clinical development for multiple myeloma (Genmab, 2015).
SMi is pleased to announce that Esther C.W. Breij, Assistant Director, Antibody Research from Genmab, has joined the expert speaker line-up at the 4th annual ADC Summit 2015 conference taking place on 18th - 19th May in London, UK.
Her fascinating speech entitled: Targeting Solid Cancers Using Antibody-Drug Conjugates against the Novel ADC Targets Tissue Factor and Axl will explore topics such as:

Tissue factor (TF) as a target for an antibody-drug conjugate
Preclinical efficacy of HuMax-TF-ADC in a broad range of solid cancer xenograft models
Imaging HuMax-TF-ADC in cynomolgus monkeys
Axl as a novel ADC target
This event will provide the perfect opportunity for attendees to debate, confer and share how to create the next wave of ADCs with better efficacy, lower toxicity and improved potency for clinical success.
To view the full programme or to download a brochure visit http://www.smi-online.co.uk/2015conjugates55.asp
Benefits of Attending Include:
Hear more about the payload developments
Receive updates on ADCs in clinical trials
Learn more about biodistribution and tumour penetrations
Aim for improvement of the therapeutic index
Discover strategies for effective targeting ADC off-target toxicities
Understand the status of the development of novel binding moieties
Key Speakers Include:

Mahendra Deonarain, Chief Scientific Officer, Antikor Biopharma Ltd.
David Thurston, Professor of Drug Discovery, King's College London
Angela Romanelli, Senior Director, Biomarkers, ImmunoGen, Inc.
Christophe Bonny, Chief Scientific Officer, Bicycle Therapeutics Limited
Klaus Bosslet, Head Discovery Oncology, Pharma Research & Early Development, Roche Innovation Center Penzberg
Iontcho Vlahov, Vice President of Discovery Chemistry, Endocyte, Inc.
Vijay Chudasama, Research Associate, University College London
In addition to the event, there will be an interactive half-day post-conference workshop entitled: ADCs: A Journey Through Development, taking place on the 20th May at the Holiday Inn Bloomsbury in London, UK.
Workshop Leaders: Dr. Richard Turner, Principle Consultant, Natalie Thomas, Consultant, Simon Bishop, Associate Consultant at BioDesk
For more information or to register for this conference please visit http://www.smi-online.co.uk/2015conjugates55.asp
Alternatively contact Fateja Begum on +44 (0) 207 827 6184 or e-mail fbegum(at)smi-online(dot)co(dot)uk