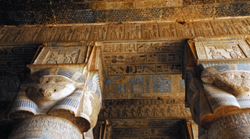 It gives visitors the opportunity to enjoy more cruising time on the Nile as well as to visit the Pyramids in Cairo and lesser known sites such as Abydos and Denderah which are remarkable
(PRWEB UK) 25 March 2015
Orbital Travel has released confirmed sailing dates for its Long Nile cruises between Cairo and Aswan. This new cruise offers a superb amount of cruising along some of the most beautiful stretches of scenery along the Nile as well as excursions to lesser known archaeological sites in Middle Egypt.
The stretch of river between Cairo and Luxor re-opened in 2012 after being closed for 18 years. As well as visiting the main sights in Cairo, visitors returning to Middle Egypt can now visit El Minya (including Tel-Amarna, the atmospheric remains of the desert city of Akhenaten and the tombs of Beni Hassan); Abydos Temple (one of the most complete temples of its era in Egypt) and Denderah Temple (with remarkable scenes and beautifully preserved colours).
There are 4 itineraries on the route offering maximum flexibility: Cairo to Aswan 14 nights; Cairo to Luxor 11 nights; Aswan to Cairo 12 nights and Luxor to Cairo 9 nights. Cruises are on board the 5* Deluxe MS Hamees and are fully escorted by an English speaking Egyptologist who is on board throughout the cruise.
John McCallum, Orbital Travel's Managing Director, commented: "We are pleased to offer confirmed sailing dates for this very special Long Cruise. It gives visitors the opportunity to enjoy more cruising time on the Nile as well as to visit the Pyramids in Cairo and lesser known sites such as Abydos and Denderah which are remarkable. The cruise also offers great value for money with up to 19 guided excursions. We think the cruise will also appeal to those who have previously travelled to Egypt as you do not have to sail between Luxor and Aswan now, you can just do the cruise between Luxor and Cairo."
Sailings operate in April, May, August and September 2015 and include up to 19 guided excursions. A 9 night Luxor to Cairo cruise leads in at £1549 per person and includes flights from London, 9 nights Full Board (twin share), transfers and 14 guided excursions.
For more information please contact Orbital Travel on 01763 274174, http://www.orbitaltravel.co.uk
About Orbital Travel:
Orbital Travel is an independent Tour Operator and has been operating since 2003. They are river and coastal cruise specialists offering 5* river cruises on the Nile, 4* cruises on some of the most scenic rivers in Europe and a Seychelles island hopping cruise.