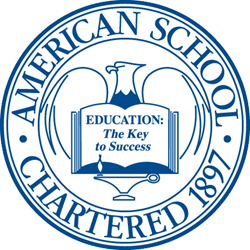 Lansing, IL (PRWEB) April 07, 2015
American School is thrilled to be heading to the Queen City to exhibit at the Midwest Homeschool Convention at Cincinnati's Duke Energy Center for the sixth straight year. Homeschoolers and their families are invited to visit American School in booth 1205 on Thursday, April 9, from 6-9 p.m.; on Friday, April 10, from 9:30 a.m.-8:30 p.m.; and on Saturday, April 11, from 9:30 a.m.-5:30 p.m. to learn about American School and pick up information packets and fun promotional items.
"The Midwest Homeschool Convention in Cincinnati is a must-attend event for us," American School President Gary R. Masterton said. "It's centrally located and draws families from Indiana, Ohio, Kentucky, West Virginia and a few other states. At this year's event, we're particularly excited to spotlight our new online diploma program and our new online world language courses powered by Rosetta Stone."
Indeed, American School now offers diploma programs in online and paper-based formats. After offering paper-based diplomas for most of its 118-year history, American School launched an online diploma program on April 1. Both programs consist of 18 units of credit and cost between $2100 and $3600 depending on course delivery method.
"We're proud to offer both online and paper-based diploma programs," Masterton said. "Some students like learning in modern ways, while others like learning in more traditional ways. We're happy to serve both groups."
In total, American School offers approximately 100 high school courses, including online world language courses offered through a partnership with Rosetta Stone. Individual courses to enrich an existing homeschool program typically cost between $150-$300.
"As a non-profit institution, we are able to keep costs to a minimum," Masterton said. "We believe we offer the best value in distance education--offering the accredited high school courses students need at a cost they can afford."
American School is accredited by three reputable groups: the Middle States Association of Colleges and Schools/Commissions on Elementary and Secondary Schools (MSA-CESS), Ai (Accreditation International) and NCPSA (the National Council for Private School Accreditation) and is recognized by the State of Illinois as a non-public high school.
For more information, call 866-260-7221 or visit http://www.americanschool.org.