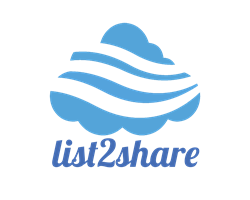 Be a trendsetter, Share differently
San Francisco, CA (PRWEB) March 27, 2015
Nowadays, there are so many apps out there; literally, there is an app for everything but with less and less human interaction. The List2share app, recently launched for iOS and Android, enables interaction between users with brand new concepts – the list, the photolist, and the videolist. List2Share has turned the social media app world on its head with this new concept.
Many people wonder, why reinvent the wheel? Why change the status quo? Why not just mimic the current trend? List2Share is a trendsetter, refusing to follow in the footsteps of other apps. List2Share does not do "likes," and instead shares in a different way.
Well, welcome to the new era of PR's (photolist request) and VR's (videolist request), a new and more impactful way for users to get instant recognition from people around the world who appreciate their photolist as well as their videolist, and who also desire to share their lists. This means that the interaction goes beyond just liking someone's picture. It means that the person that is sending a PR or VR wants to share his or her moment with specific users, instead of the entire platform. It creates a profound connection! As a result, users' friends on List2share and their PR and VR follwoers will be able to comment. This will attract more people towards what each user is sharing.
Users have also wondered why List2Share focuses on using these lists to connect people. "How could a list be fun," they ask. List2Share asked the same questions and came to a simple conclusion. Many moments of life's moments are centered on "lists": bucket lists, shopping lists, Christmas lists, grocery lists, or to-do lists. Imagine for a second a place that enables everyone to express themselves by creating all types of lists. For example, someone who doesn't know how to dress for a date could list a series of photo options and let their List2Share friends suggest what they wear. Even better, users could use the hashtag section and hashtag which outfit might work best. For example, they could use #bluedress and see everyone's blue dress lists, photolist or videolist to give an overall idea on possible outfits.
Whether it is to organize a party with a group of friends, to give a secretary a to-do list, or to figure out who brings what for a family gathering, List2Share allows users to create an interactive list to make sure nobody forgets anything. In fact, List2Share lets users choose who is allowed to edit and be on the list. That way, it will be easier to blame Uncle Ben for forgetting the cheese, because it will have his profile photo beside the items that he was supposed to bring – so no more excuses!
For more information, visit http://www.list2share.com, and watch this video!
Be sure to check out List2Sahre's now fully-funded Kickstarter campaign.