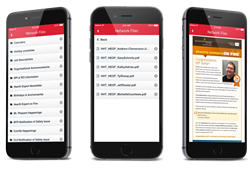 "Do you know how non-desk employees currently read important operations and policy documents? They either find them stuffed in a payroll envelope or tacked to the break room bulletin board. It's 2015, and employers can do better."
Louisville, Kentucky (PRWEB) March 25, 2015
Red e App, which built the first of its kind internal communications mobile platform for employees without access to company email, today introduced a new feature that allows front-line, hourly and non-desk workers digital access to company documents. The functionality is essentially Dropbox for the hourly employee – the most likely portion of the workforce to be without company email, but who still need access to employee handbooks, training materials and HR resources.
"Approximately 60 percent of the workforce in the United States is hourly, and most of these employees do not have access to corporate email accounts and file sharing intranets like SharePoint, Google Drive, or Dropbox," said Patrick Goodman, product director for Red e App. "But these employees need to be informed and given the most up-to-date company information just as much as any one else. The digital file distribution service that Red e App provides is a powerful tool for company managers, operations and HR executives to put documents, spreadsheets, and PDFs in the hands of their mobile workforce."
"Do you know how non-desk employees currently read important operations and policy documents? They either find them stuffed in a payroll envelope or tacked to the break room bulletin board. It's 2015, and companies can do better."
Companies benefit from higher retention rates and workplace efficiencies when non-desk workers have real-time, mobile access to benefits, schedules and company information. Companies will also experience significant cost savings by not having to waste time and resources on mailings, posters, and printed documents for every revision and typo. Documents are simply updated in an admin portal and every employee has immediate access to the new files.
Red e App customers, such as EMI Guiderail, are revolutionizing communication, operations, compliance, and file distribution for their employees. EMI Guiderail is a specialty highway contractor providing bridge railing, guide railing and highway sign installation throughout New York State and Vermont.
"The New York State Department of Labor and the Occupational Safety and Health Administration (OSHA) require our contractors to have real-time access to a number of regulatory documents. We were technically compliant with a binder in each truck, but we know our contractors aren't taking the time to review the 96 documents or to keep up to speed on updates," says Laura Malave, EMI administrative specialist. "By using Red e App, we are legally compliant without the burden of keeping the binders updated and our employees can review the documents anytime."
About Red e App
Red e App has built a private and secure internal communications platform that connects companies with their hourly, front-line employees and those without requiring company email access. Red e App is focused on building a communication platform that is beneficial for enterprise business departments such as operations, human resources, risk management, and communication teams who need a unified and dedicated communication channel to reach every single employee. Red e App is available on iOS, Android, and web browsers. For more information on Red e App, visit our website (http://redeapp.com)