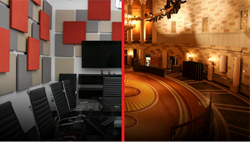 ... we've become the largest supplier of specialty sound and noise control products and materials in the world.
Chaska, MN (PRWEB) March 24, 2015
Acoustical Surfaces, Inc. (ASI) is proud to announce the 35th anniversary of the company widely regarded as the leading resource for acoustical products and materials in the United States. Serving architects, acousticians, contractors, builders, structural designers, and many other businesses concerned with creating quiet, great-sounding spaces, ASI has improved the sound of well over 80,000 projects for over 30,000 very happy clients. Established in 1980, ASI works with corporations, companies, and individuals from New York to Los Angeles, and has participated in some amazing - and landmark - building projects.
Steve Anderson Jr., President and son of the founder (Steve Anderson, Sr., appropriately), notes that "the company has grown organically, and over the years, has branched out to allied industries like Green Building practices, fireproofing materials, and retail product sales. From a total staff of five in 1500 square feet of space, we've become the largest supplier of specialty sound and noise control products and materials in the world. I literally grew up in this business, and I still enjoy every part of it - even when someone doesn't remember our company name, but gladly refers people to 'those stop-sign guys – they've got everything'."
ASI consists of six brands – Acoustical Surfaces, Architectural Surfaces, AcoustiGreen, Acoustic Geometry, Climate Seal, and Fire Retardants, Inc. – all of which deliver the highest quality and most cost-effective products to their respective business alignments. With six different areas of expertise, ASI has found that cross-brand best-practices have raised the quality and engagement level of each of the separate brands, while economies of scale have contributed to cost savings for each of the five brands' customers.
Acoustical Surfaces continues to invigorate the business of controlling sound in spaces, and the entire staff looks forward to many more years of excellence in acoustics. More information can be found on the ASI website (http://www.AcousticalSurfaces.com). Acoustical videos are available on the Acoustical Surfaces YouTube Channel (https://www.youtube.com/user/ASIsoundproof).
Copyright 2015 by Acoustical Surfaces, Inc.