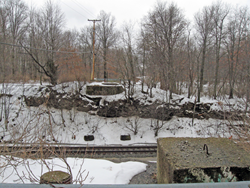 The impetus for this project was improving response time for emergency responders. A direct route through Highbridge Road, without the risk of stopped trains, will enhance the health and safety of our residents. - Mayor Eileen Bulan, City of Vermilion
Elyria, Ohio (PRWEB) March 25, 2015
KS Associates, Inc., a civil engineering and surveying firm located in Elyria, Ohio, has been authorized by the City of Vermilion (Ohio) to complete design of the new Highbridge Road Bridge. When constructed, the bridge will carry vehicles over Norfolk Southern Railroad tracks. The new bridge is expected to be constructed and put into service in 2016.
The original Highbridge Road Bridge, a wooden structure built in 1910, was removed in the 1980s due to deterioration. The bridge was not replaced, making it impossible to cross Norfolk Southern Railroad tracks at Highbridge Road. Motorists traveling along the roadway must take a 1.5-mile eastbound detour to Sunnyside Road, or a 1.5-mile westbound detour to Vermilion Road, to continue on their north- or south-bound journeys. Stopped trains at Sunnyside and Vermilion Roads further compound the detours, requiring motorists to drive another two to three miles to an overpass.
The new Highbridge Road Bridge will provide direct access to the southeastern quadrant of the City. The bridge will also create a safe and convenient way to cross active Norfolk Southern Railroad tracks that carry up to 120 trains per day. According to Eileen Bulan, Mayor of the City of Vermilion, "The impetus for this project was, foremost, improving response time for emergency responders. The City of Vermilion's fire station is located only one mile from the bridge location. A direct route through Highbridge Road, without the risk of stopped trains, will enhance the health and safety of our residents."
KS Associates has been working with the City of Vermilion over the past five years to turn the project into reality. In 2010, KS Associates assisted the City in securing $1,440,000 in federal funding through the Ohio Department of Transportation's Municipal Bridge Program. In 2011, KS Associates prepared a Bridge Type Study that analyzed several design alternatives. The most cost-effective design is a 125-foot single-span steel and concrete bridge.
About KS Associates, Inc.:
KS Associates, Inc. is a civil engineering and land surveying firm founded in 1987. The firm provides planning, design, bidding and construction phase services related to public infrastructure projects in the areas of transportation, potable water, waste water and storm water; site development engineering services for institutional, commercial and residential uses; coastal engineering services; land surveying and mapping services; and 3D laser scanning services. KS Associates, Inc. is a Disadvantaged Business Enterprise (DBE). For more information visit: http://www.ksassociates.com.