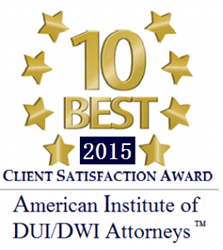 Thank you American Institute of DUI/DWI Attorneys for the recognition two years in a row.
Doylestown, PA (PRWEB) March 25, 2015
Doylestown Bucks County DUI attorney, Michael L. Saile, Jr., of Saile & Saile LLP has earned recognition for the second consecutive year being named one of the 10 Best Attorneys for the State of Pennsylvania.
The American Institute of DUI Attorneys (AIDUIA), an impartial third-party attorney ratings service, searches each year for Pennsylvania's most skilled lawyers. The organization again found Mr. Saile among those top-notch professionals.
The selection process engages independent research only of those attorneys who are nominated by at least one licensed, practicing attorney. In addition to being approved by the AIDUIA Board of Regents, to qualify as one of the 10 Best, each attorney must be an industry leader who possesses top-ratings by clients and peers including a 10/10 client satisfaction rating with no negative feedback. He or she must have no bar or ethics complaints of any kind. Passing that criteria, the chosen attorney must also possess advanced degrees, be one who has attained awards, be engaged in professional associations, and have publications and speaking engagements in his or her field.
Mr. Saile's nomination demonstrates both his commitment to the DUI/DWI defense field and the high level of approval among his peers. His track record of results and his proven community leadership exemplify the skills needed to secure the recognition. His "Superb 10/10" rating on Avvo.com, a professional ratings website, from both clients and peers speaks to his superior qualifications. Giving back to his local community, Mr. Saile holds a position on the Board of Directors at TODAY, Inc., a community drug and alcohol rehabilitation program designed to be an alternative to incarceration.
Michael L. Saile, Jr., Esq. writes, "It is truly an honor to receive continued recognition from the American Institute of DUI Attorneys. My goal is to provide sound legal guidance to maximize the positive opportunities and outcomes for my clients through a sometimes confusing and stressful time."
Licensed for over 12 years, Mr. Saile focuses his practice at Saile & Saile LLP on DUI defense and personal injury law in Pennsylvania and New Jersey. He has been named multiple times to the list known as "Rising Stars" by SuperLawyers.com and Top 40 Under 40 by the National Trial Lawyers Association. Mr. Saile was also named to the list known as Top 40 Under 40 by the American Society of Legal Advocates (ASLA) for 2014. He has been recognized locally as well, named as Happening List's Bucks County's Most Happening Lawyer for 2012, and as one of Forty Under 40 business and community leaders by the Bucks County Courier Times.
The Bucks County DUI lawyers at Saile & Saile LLP help those arrested for DUI by providing a FREE "DUI Guide" that may be downloaded at their website. They also help victims of auto, truck, motorcycle, bicycle, and pedestrian accidents to recover compensation from insurance companies. Saile & Saile LLP also provides free, informative videos on its Pennsylvania injury lawyer website.