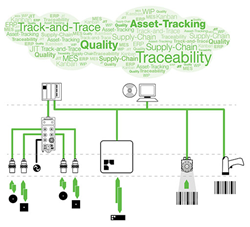 Along with our partners, we will continue to innovate the way our customers automate.
Florence, KY (PRWEB) March 25, 2015
Balluff recently announced their partnership with several key RFID (Radio-frequency identification) integrators and software providers. "These partners are critical in providing our customers with a complete end-to-end solution. Whether the solution is for a machine tool identification application or plant-wide traceability project, this group can tie it all together," said Wolfgang Kratzenberg, Marketing Manager for Industrial Identification at Balluff Inc. "We've provided RFID hardware solutions to the industrial market for over 25 years and in that time we have developed a reputation for quality, superior product performance, and excellent customer service. Our customers have come to expect the same level of performance from our partners as they do from us."
Balluff offers the broadest line of passive Low frequency, High frequency and Ultra High frequency RFID readers, antennae and tags. "We can address some of the toughest applications in a plant with our systems due to the breadth and diversity of our product line. Along with our partners we will continue to innovate the way our customers automate," said Kratzenberg. Balluff's RFID partner list includes: Machine Tool Partners, RFID System Integrators, Value Added Resellers and Software Partners. The full list of partners can be viewed online.
For over 25 years, Balluff RFID systems have provided customers all over the globe with actionable data, which is required to make complex business decisions. Balluff RFID systems are designed for some of the toughest environments and can connect to just about any control network. With the widest selection of tags, antennas, and processors, Balluff can address just about any identification application in the plant. From the stalwart BIS C system, which has revolutionized the machining center, to the BIS U (UHF), which can read tags at distances up to about 6m, Balluff has the system that is right for the job.
Learn more about Balluff and their complete line of RFID products at: http://www.balluff.us/RFID
Editors: Download high resolution images on Flickr.
About Balluff Inc.:
Balluff Inc., the U.S. subsidiary of Balluff GmbH, Neuhausen, Germany, is a leading manufacturer of a wide range of inductive, photoelectric, vision, capacitive and magnetic sensors as well as linear position transducers, RFID systems, and networking products. Balluff products for OEM and factory floor solutions are used to control, regulate, automate, assemble, position, and monitor manufacturing, assembly, and packaging sequences for industries including: metalworking, automotive, plastics, material handling, wood processing, aerospace, alternative energy, medical, electrical, and electronics.