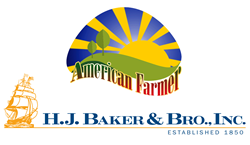 Westport, CT (PRWEB) March 25, 2015
H.J. Baker & Bro., Inc. announced today that they will be featured in an upcoming episode of American Farmer, airing 3rd Quarter on RFD-TV.
In this episode, American Farmer will feature H.J. Baker & Bro., a world leader in agriculture's feed, fertilizer and sulphur industries, and international importer, exporter, manufacturer and sales agent mobilizing global resources.
Audiences will be educated on their strategically located processing plants, offices and warehouses, which create a super-efficient pipeline for vital commodities and products.
"H.J Baker's Animal & Health division specializes in formulating precision protein products that increase feed efficiency and improve animal performance," said H.J. Baker & Bro Marketing Manager, Nancy Shearer. "Established in 1850, H.J. Baker has earned a reputation for excellence, quality, and precision ingredients that are a vital part of any superior feed formula."
"Every day, H.J. Baker's products improve the agriculture industry, and the availability and quality of food," said Kelly Fussell, producer for American Farmer. "We are excited to feature this amazing company on our show."
About H.J. Baker & Bro:
H.J. Baker & Bro is a protein specialist dedicated to excellence in quality and dependability. Integrity and relationships are the foundation of their 164-year history of success. With strategically located processing plants, offices and warehouses, they are able to create an efficient pipeline of superior protein distribution and traceability for the animal agriculture industry.
For more information, visit: http://www.hjbaker.com.
About American Farmer:
American Farmer is a breakthrough program on a mission to showcase the latest advancements in agriculture and farming. From seed to harvest, livestock and more, our producers have traveled the country covering the people, places and issues impacting all areas of farm country.
American Farmer airs Tuesdays at 8:30am ET on RFD-TV. Check your local listing for show times.
For more information visit: http://www.AmericanFarmerTV.com. You can also contact Kelly Fussell at (866) 496-4065 x 850 or via email at: Kelly(at)AmericanFarmerTV(dot)com.