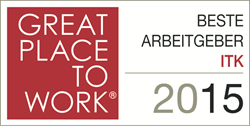 "We are thrilled and honored to again be recognized by the Great Place to Work Institute as one of the best German employers in the IT industry" ~ Christian Blume, CEO, cleverbridge
Cologne, Germany (PRWEB) March 25, 2015
cleverbridge, a global full-service ecommerce provider for software and cloud companies, announces the company has been named to the Great Place to Work® Institute Germany "Beste Arbeitgeber in der ITK 2015" list. cleverbridge was named No. 16 on the Great Place to Work list, which recognizes the top 60 IT companies in Germany with exceptional professional development and training, company atmosphere, benefits and rewards, and employee engagement. This is the second year cleverbridge has been named to the list.
To identify top employers, the Great Place to Work Institute issued an anonymous survey to participating companies' employees. The survey asked about key workplace issues such as trust in the leaders, teamwork, professional development opportunities, appreciation and compensation, identification with work, loyalty to the employer, health promotion and life balance. Furthermore, the quality, diversity and sustainability of policies and approaches in human resources and leadership underwent a management audit.
"We are thrilled and honored to again be recognized by the Great Place to Work Institute as one of the best German employers in the IT industry," said Christian Blume, CEO, cleverbridge. "As cleverbridge has continued to grow as a global organization, we've spent more time and energy continuing to foster a strong company culture that ensures our employees can grow at both a personal and professional level. I view this award as a testament to those continued efforts and to our employees who make this a great place to work."
Since its founding, cleverbridge has always focused on fostering a strong company culture as a global organization which has resulted in a great deal of industry recognition. The company was named a National Champion representing Germany in the 2014/15 European Business Awards' Employer of the Year Award category. cleverbridge's Chicago office was also named to Chicago Business Journal's Best Places to Work Awards list and Brill Street's list of Top 50 Employers for Gen Y Emerging Talent in Chicago.
The 2015 Great Place to Work list is available online at http://www.greatplacetowork.de/siegerliste-baitk-2015. To learn more about cleverbridge, please contact inquiry(at)cleverbridge(dot)com or visit http://www.cleverbridge.com.
About cleverbridge
cleverbridge is a proven leader in ecommerce technology, services and expertise for global software and cloud companies that serve consumers and businesses. For more than 300 clients – including Avira, Corel, Dell, Malwarebytes and Parallels – cleverbridge is a true extension of their teams, understanding each client's billing models, markets, channels and specific ecommerce requirements. cleverbridge provides an unsurpassed customer experience so that clients can strategically leverage ecommerce to effectively build customer relationships and generate more revenue. Headquartered in Cologne, Germany, cleverbridge has offices in Chicago, San Francisco and Tokyo. For more information, visit http://www.cleverbridge.com.