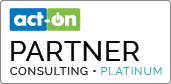 Woodland Hills, CA (PRWEB) March 25, 2015
A leading SugarCRM Elite Partner and known for their innovative Sugar integrations, FayeBSG has joined the New Act-On Software Consulting Partner Program as an Act-On Platinum Partner.
As a SugarCRM Elite Partner, FayeBSG adds unprecedented value to Act-On customers and prospects with their industry leading CRM implementation and integration experience. Having successfully completed thousands of SugarCRM implementations, FayeBSG brings a one-of-a-kind offering as an Act-On Partner: Their CRM expertise and its application to Act-On.
View FayeBSG's Marketing Automation Services here: http://fayebsg.com/marketing-automation-services/
Click here to register to attend an upcoming Marketing Automation boot camp.
Riding this synergistic wave between the solutions that Act-On provides and their own solutions, Faye Business Systems Group has launched their own suite of Marketing Automation services, which focuses on the CRM optimization of Act-On. FayeBSG's Marketing Automation services have CRM at their core, offering CRM optimization best practices as well as custom content creation, such as landing pages, email templates, web forms and quick start packages.
"We've built our company on being among the leading CRM and ERP software implementation and integration specialists," said David Faye, CEO of Faye Business Systems Group. "Our CRM integration expertise creates a whole new layer of performance value for Act-On use by customers and prospects."
Faye Business Systems Group is known for not only being one of the most experienced and technical "Elite" Sugar partners but also for their breadth of Sugar Integration Add-On Products which include integrations with ERP software, credit card processing, project management, phone systems, and more.
"The FayeBSG Team delivers extensive multi-layered CRM and marketing integrations combined with a wide array of high value Marketing Consultative Services for the SMB market. FayeBSG's extensive Marketing Automation experience gives their clients and prospects a competitive edge," says Greg Goldstein Sr. Director of Global Channel Sales and Development at Act-On Software.
About Faye Business Systems Group
Faye Business Systems Group is an award winning Software Company specializing in integrating SugarCRM with software based business solutions. FayeBSG has over 25 years of experience helping growing companies become more profitable through the effective use of technology. As an industry leader, FayeBSG uses SugarCRM, Act-On, NetSuite, Sage 100 ERP (formerly MAS 90), Box, Atlassian, and a variety of custom software solutions to meet client needs with services including software development, project management, integrations, data migration, consulting, training, and support. As one of Sugar's leading North American Elite Partners, an Act-On Platinum Partner, and a Sage Platinum Partner, FayeBSG has developed Sugar Integrations for: NetSuite, Sage 100 ERP, QuickBooks, Constant Contact, Authorize.Net, Jira, ShoreTel and Box. http://www.fayebsg.com
About Act-On Software
Act-On Software provides the leading sales and marketing engagement platform for the 21st century business. Simple to operate but powerful in its results, elegant in its user experience and comprehensive in its functionality, Act-On's cloud solution powers over 3,000 companies in their engagement efforts across all stages of the customer lifecycle -- attract, capture, nurture, convert, and expand. The platform's out-of-the-box integrations with popular standalone tools are further complemented by Act-On Anywhere™, a business productivity application that extends the use of marketing automation across web-based environments. Act-On supports an open marketing ecosystem that enables businesses to take full advantage of the latest tools and services available, in the context of an integrated engagement and targeting platform. Act-On also offers a best-in-class professional services team, dedicated customer support, and the APEX ecosystem of partners to provide clients with the resources they need to achieve sales and marketing success. Headquartered in Beaverton, OR with eight additional offices across three continents, Act-On has been recognized for its superior product and rapid business growth by Deloitte, Forbes, and Inc. Magazine. For more information, visit http://www.act-on.com.
Press Contacts:
Jesse Heller
Faye Business Systems Group, Inc.
818 280 4827
jesse dot heller @ fayebsg dot com