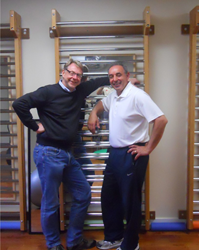 We are excited to announce that we are hosting a Schroth Best Practice® course in April, in order to certify practitioners who wish to conservatively treat and empower scoliosis patients around the world.
Boston, MA (PRWEB) March 30, 2015
Dr. Marc Moramarco, of Scoliosis 3DC, will host the first U.S. Schroth Best Practice® course in Woburn, MA from April 11-15, 2015. Dr. Hans-Rudolf Weiss will travel from Germany to instruct attendees alongside Dr. Moramarco. Several national and international professionals are scheduled to attend the five-day event to earn certification as Schroth Best Practice® practitioners. 
The course will outline the newest updates to the Schroth method for scoliosis – Schroth Best Practice®. These technique advancements by Dr. Weiss allow scoliosis patients a simpler experience when learning the Schroth method and offer techniques for easier integration of the principles.
For the scoliosis patient, the benefits of Schroth Best Practice® techniques are numerous. The program is multi-modal and according to curve pattern. In addition to Schroth exercises, components are included which address a patient's regular activities – how to sit, stand, and lie down, comprehensive postural education for specific activities and sports participation, as well as instruction for movements as simple as walking, carrying a back pack or pulling luggage through an airport. The overall goal is to teach patients to avoid curve-stimulating behaviors.
The course comes at an important time because patients and families are tired of the historically limited scoliosis treatment options. Therefore, it is crucial to certify more Schroth Best Practice® practitioners so patients who want to proactively manage scoliosis using exercise have improved access to practitioners who are knowledgeable about the latest advancements.
Dr. Weiss is the former medical director of the Asklepios Katharina Schroth Clinic – an in-patient facility bearing the name of his grandmother – Katharina Schroth, the creator of the Schroth Method. There is no greater authority worldwide on the nonsurgical treatment of scoliosis. The Schroth method is rapidly gaining acceptance by patients internationally as an effective, nonsurgical treatment option for scoliosis. Dr. Moramarco introduced Schroth Best Practice® in the U.S. in 2007 after gaining his Schroth Method certification in Germany.