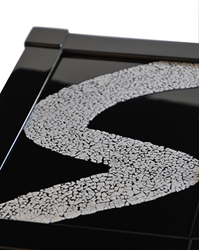 Each fragment of eggshell is placed on the surface using the traditional techniques from decades ago to create a one-of-a-kind realization of "Furniture as an Art Form".
Los Angeles, CA (PRWEB) March 26, 2015
J. Robert Scott, Inc. the internationally known luxury furniture and textile manufacturer introduces a new bespoke finish designed by Sally Sirkin Lewis.
In the world of Art Deco artists, the name Jean Dunand was famous for his metal work and magnificent lacquer pieces. In style, form and substance, Dunand made his mark with invention and craftsmanship. From screens, to cabinets, vases and objets d'art, Dunand reflected the Deco period when art impacted every aspect of life. His creativity was boundless. He contributed original furnishings for passenger ships The Normandie & Isle de France, and even created bracelets for the sensational Josephine Baker. Dunand perfected the labor intensive technique of "coquille d'oeuf" the art of placing tiny pieces of eggshell in lacquer resulting in a surface decoration that is breathtaking.
New for spring 2015, J. Robert Scott under the direction of Sally Sirkin Lewis introduces authentic eggshell lacquer, the latest achievement in decorative furniture finishing. Last year a company-wide request to collect eggshells resulted in an overwhelming supply of raw materials including delicate quail eggs, and thus began the period of research and development of our own artistic process. Each fragment of eggshell is placed on the surface using the traditional techniques from decades ago to create a one-of-a-kind realization of "Furniture as an Art Form". The opportunity to incorporate geometric designs and freeform patterns are unlimited. As a hand crafted artistic expression, it is important to note that no two tables will be the same, and each will be signed and dated by Ms. Lewis.
As shown here, the Linea Table features an inset lacquer top with authentic eggshells in a freeform design.
…more…
ABOUT SALLY SIRKIN LEWIS AND J. ROBERT SCOTT, INC.
J. Robert Scott, Inc. the luxury home furnishings manufacturer was founded in 1972 in Los Angeles by Hall of Fame designer Sally Sirkin Lewis. The company was born out of Ms. Lewis' desire to provide her clients with contemporary, well made furnishings that met her uncompromising standards of quality and beauty. Her understated, signature style has become known as "California Design." To this day, she serves as the President of the company, which has established itself as an influential design force around the world, with company owned showrooms in Los Angeles, New York, Chicago, Dallas, and London, and representation in 16 cities in 11 countries.
Throughout her career, Ms. Lewis has been awarded more than 150 U.S. Design patents for her furnishings which are manufactured by hand in the 70,000 square foot factory in Inglewood, California. Through her guidance and direction, J. Robert Scott has gained recognition as an exceptional resource for custom design furniture. It is rare to find a company that can modify any of their existing items, or create an entirely new a piece, tailored to the specific needs of their clientele. It is not unusual to see skilled craftsmen, many of whom have been with Ms. Lewis for more than 20 years, hand sewing the edges of a sofa or patiently applying gold leafing to a console. The techniques used are the traditional construction methods that date back to the Renaissance, these talented craftsmen are truly modern day artisans.
J. Robert Scott is well known in the interior design industry for utilizing rare and exotic veneers, as well as Shagreen, snake and goatskin parchment in the manufacturing of its products. The textile division offers a distinctive range of hand-woven silks, silk mohair, wools, velvets and JRS Superkidskin among nearly 700 couture-quality luxury fabrics, in the most appealing and contemporary colorways. Furniture and textiles designed by Sally Sirkin Lewis for J. Robert Scott are instantly recognized for their beauty and valued for their quality, the essence of the company's commitment to producing "Furniture as an Art Form."
For additional company and product information, please visit http://www.jrobertscott.com
# # #
Digital Images Available upon Request