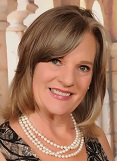 Women's value to the auto industry equals almost $300 billion a year!
Chicago, IL (PRWEB) March 25, 2015
Led by AskPatty.com Inc. CEO, Jody DeVere, a panel of automotive industry marketing experts will show marketers at the 11th Annual M2W® – The Marketing to Women Conference how to build more business with women. M2W® ,http://www.m2w.biz, will be held April 21 & 22, 2015, Chicago Cultural Center. The panel will include: Hwei-Lin Oetken, Vice President Market Intelligence, Kelley Blue Book; Marcela Tabares, SVP of Strategic Insights, A&E Networks; Fred Koplin, Senior Director Marketing Yokohama Tire Corp.; Sara Miller, Senior Program Assistant, Motor Oil Matters; and Sondra Healy, Owner, Turtle Wax..
"From car buying, automotive education, to car care products and tires, this panel of innovative automotive brands will share ground breaking creativity, tools and case studies on how to succeed selling, advertising and marketing to women," DeVere explained. "We'll explore how they've learned to rise to the needs of women and what it also means for increasing business with men. We'll show how every marketer can implement these strategies into their own industry. The bottom line is that brands that resonate with women win market share."
74% of Women Feel Misunderstood By the Auto Industry
According to DeVere, "Women hold 50.4% of driver's licenses and 39% of car registrations. They influence or make 85% of all auto purchases which equates to $80 billion spent annually. Add in the post-purchase services and repairs, and women's value to the auto industry rises to $300 billion a year! And yet, despite their immense buying power, 74% of women feel misunderstood by the auto industry.
"Women's priorities are different than men's," DeVere added. "They require a reliable automobile and they are willing to wait for it. Women spend more time researching and more time shopping dealerships than men. To this end, the product research is only part of her decision – the experience of buying is her biggest trigger point. Then the experience of service can be what makes her a loyal, repeat customer."
About M2W® – The Marketing to Women Conference
"M2W® features case studies, research, workshops, creative sessions and peer-to-peer networking all designed to help marketers learn how to build better business with women who control 85% of all consumer spending in virtually every product category," according to Nan McCann, M2W® producer. "Study after study has shown that women are the dominant drivers of our consumer economy. They account for $7 trillion of annual spending in the US, and over $20 trillion globally.
"M2W® is annually attended by Fortune 1000 senior brand marketing executives and their agencies. The audience typically includes companies as diverse as Harley-Davidson, Bayer, Aetna, ESPN, Kraft Foods, Ford, GM, Johnson & Johnson, Kellogg, Diageo, Walgreens, Wells Fargo, NBA, WebMD, Burton, L'Oreal, ConAgra and Whirlpool. They attend," McCann said, "because they recognize the brand- critical importance of reaching women."
M2W® 2015 is presented by Associate Sponsors: Crowdtap, Women's Marketing, Marina Maher Communications; Workshop Sponsors: Social Media Link, MultiVu, FletcHER; Showcase Sponsors: Verizon, Ketchum, Razorfish, May Designs, Harley-Davidson, World Kitchen, CBL, Willoughby Design, Kelley Blue Book, VML, Lifetime, PGA, Macaroni Kid, Tuxedo, CBX, Ask Patty, Collective Bias, World Surf League, Motor Oil Matters; House Party, Yokohama Tires, Pluggz, Turtle Wax, SheKnows Media; Video Content Resource: Snippies; Official Bookseller: Paramount Market Publishing (PMP).
For complete conference schedule and information visit: http://www.m2w.biz or call 860.724.2649 x13. M2W® is produced by PME® Enterprises LLC, 912 Silas Deane Highway, Suite 101, Wethersfield, CT 06109. PME® http://www.pme-events.com is a sales and marketing agency with a special emphasis on events.