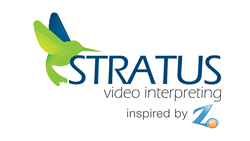 While many hospitals have invested in Spanish interpreters to address LEP compliance, the needs of Asian American patients and other LEP populations are often being ignored.
Clearwater, FL (PRWEB) March 25, 2015
There is a growing need for healthcare interpretation services among Asian-American LEP patients in the United States. The U.S. Census Bureau surveys estimate that of the 14.3 million Asians living in the United States, more than 5 million—or 35.2%—speak English less than very well (1) – a number that is only eclipsed by that of Spanish-speaking Americans who account for 65% of the Limited English Proficiency (LEP) population (2). Stratus Video Interpreting notes that a lack of English proficiency can hamper equal access to healthcare if hospitals do not provide medical interpretation services in patients' native language. With on-demand video remote interpreting (VRI), healthcare providers can immediately connect to qualified Asian-language interpreters and ensure compliance with federal regulations.
Title VI of the Civil Rights Act requires that any program receiving federal funding—including hospitals and other healthcare facilities that accept Medicare or Medicaid payments—must ensure individuals with limited English proficiency have meaningful access to programs and services.(3) To maintain LEP compliance, many hospitals have recently introduced healthcare interpretation services for the country's large Spanish-speaking population. Yet in many cases, interpretation for Asian languages remains largely overlooked—despite the fact that the LEP rate among Asian Americans is similar to the Latino rate.(4)
Part of the challenge for healthcare professionals is the linguistic diversity of the Asian American population. While 99% of the U.S. Latino population speaks Spanish (4), Asian Americans speak more than 35 different languages; and even the most commonly spoken languages— Mandarin, Cantonese, Tagalog, Vietnamese, Korean, Hindi and Japanese—are distinctly different from each other.
Based on insurance enrollment rates following the implementation of the Affordable Care Act (ACA), healthcare facilities are likely to see an increase in Asian American patients. Prior to the enactment of the ACA, Asian Americans had a 15% uninsured rate; but during the first open enrollment period of the federally facilitated marketplace (FFM), Asian Americans accounted for 5.5% of all enrollees.(4) In California, they comprised 21% of all enrollees in the state insurance exchange.(4)
Another factor that may drive more Asian Americans to seek healthcare treatment is their elevated risk for certain medical conditions. Asian Americans are three times more likely to develop liver cancer than non-Hispanic whites, and Asians account for about half of all Americans living with chronic Hepatitis B. Furthermore, Asian Indians have a higher rate of coronary artery disease than other Americans; and Filipinos, Vietnamese and South Asians all have higher than average rates of diabetes compared to the general U.S. population.(4)
"While many hospitals have invested in Spanish interpreters to address LEP compliance, the needs of Asian American patients and other LEP populations are often being ignored," said Sean Belanger, CEO of Stratus Video Interpreting. "Healthcare providers are already starting to see an increased demand for services now that more Americans have health insurance under the Affordable Care Act, so it's important for them to provide healthcare interpreter services for all LEP patients to avoid potential discrimination complaints and penalties."
Belanger cautions that inadequate interpretation access can have serious health consequences; he notes that numerous research studies have shown that language barriers contribute to a greater number of emergency room visits, more lab tests, less follow-up from health providers, a lower rate of health literacy among patients and less overall satisfaction with health services.(4)
Smaller healthcare facilities and those located outside of major urban areas may not find it feasible to maintain in-house staff or local contractors that are qualified to interpret all of the Asian languages spoken throughout the United States, acknowledged Belanger. But video remote interpreting offers a solution for any healthcare professional to immediately connect to a qualified medical interpreter, no matter where they are located, and in addition to the in-house interpreters they have extant.
Stratus employs only highly trained and certified interpreters that are proficient in more than 175 spoken and signed languages, and they are available 24 hours a day, seven days a week – meaning that Asian American patients with limited English proficiency can receive equal access to language and healthcare services, and healthcare facilities can maintain LEP compliance.
For more information on Stratus and its on-demand video remote interpreting services, including medical interpretation, visit http://www.stratusvideo.com.
About Stratus Video Interpreting:
Stratus Video Interpreting provides on-demand interpreter services by using technology to connect clients with interpreters in over 175 spoken and signed languages in less than 30 seconds. Stratus' cloud-based video solution delivers an array of unique features to virtually any Internet-enabled PC, Mac, smartphone or tablet. Stratus clients use the technology to connect with their own staff interpreters, as well as with Stratus interpreters, who have years of healthcare and courtroom experience and hold multiple certifications. With Stratus, state-of-the-art video remote interpreting is made available with virtually no capital investment. Stratus averages 65,000 video calls a day, up from 40,000 in mid-2013. Stratus Video is the sister company of The Z® (CSDVRS, LLC, dba ZVRS), which was established in 2006 and developed by and for deaf and hard-of-hearing individuals, setting the industry standard as the nation's premier Video Relay Service Provider and the first VRS Provider to receive a 5-year certification from the FCC. In 2014, Stratus was recognized as one of the fastest-growing privately held companies, ranking #3,827 on Inc. magazine's Inc. 5000 list. For more information, visit http://www.stratusvideo.com.
1. U.S. Census Bureau. "Nativity by Language Spoken at Home by Ability to Speak English for the Population 5 Years and Over (Asian Only)"; 2013 American Community Survey 5-Year Estimates; report generated via American FactFinder; accessed March 12, 2015. factfinder2.census.gov
2. "Limited English Proficient Population of the United States." Migrationpolicy.org. N.p., 25 July 2013. Web. 23 Mar. 2015. migrationpolicy.org/article/limited-english-proficient-population-united-states.
3. Federal Laws and Policies to Ensure Access to Health Care Services for People With Limited English Proficiency; July 1, 2009; PDF file. healthlaw.org/publications/federal-laws-and-policies-to-ensure-access-to-health-care-services-for-people-with-limited-english-proficiency
4. cdn.americanprogress.org/wp-content/uploads/2014/04/AAPIReport-comp.pdf