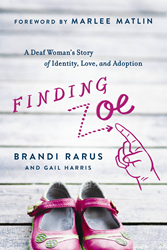 AUSTIN, TX and FRAMINGHAM, MA (PRWEB) March 25, 2015
Brandi Rarus was 6 when spinal meningitis snatched away her ability to hear.
But over time, she came to realize that the dread disease hadn't taken away her capacity to live life to the fullest.
In the recently published book "Finding Zoe: A Deaf Woman's Story of Identity, Love, and Adoption," Rarus and co-author Gail Harris tell the story of how Rarus overcame the challenges she faced after she lost her hearing, and the path that led her to adopt a deaf girl.
The story of Rarus and Zoe provides an especially timely message during Deaf History Month, which began March 13 and continues through April 15.
Zoe was a 6-month-old deaf girl caught in the foster care system when she came to the attention of Rarus, a former Miss Deaf America. Rarus needed to act quickly to adopt Zoe because deaf children are disadvantaged if they aren't introduced to visual and sign languages early. Zoe had already lived in four different homes by that time.
"Zoe's adoption into a deaf family that uses American Sign Language was so important because it gave her exposure to language she otherwise may have been denied," Rarus says about welcoming the deaf girl into her home.
Harris, who is hearing, says the story touches on themes all readers can relate to, such as self-acceptance; finding your place in the world; being judged and judging others; looking past those struggles to fulfill your dreams; and how what seems horrible up-close is beautiful from a distance.
"Reading about Brandi's experiences as a deaf person helps us to see her humanness and that helps us to see our own humanness," Harris says. "It gets us thinking about our own vulnerabilities and how they make us strong."
Academy Award-winning actress Marlee Matlin writes in the book's foreword that whether a child is biological or adopted, "a mother's heart knows no boundaries."
"'Finding Zoe' isn't just the story of a deaf child's journey; it is a story of love, heartache, sacrifice and celebration," Matlin writes.
Through "Finding Zoe," Rarus and Harris's mission is to bring awareness to the hearing mainstream of what it is like being deaf, and how we are all more alike than different.
About Brandi Rarus and Gail Harris
Brandi Rarus (http://www.brandirarus.com), who lost her hearing at age 6, has traveled the country speaking out for deaf children and building awareness of what it means to be deaf. She was Miss Deaf America in 1988. She and her husband live in Austin, Texas, with their three sons and adopted daughter.
Gail Harris (http://www.gailharrisauthor.com) is an award-winning writer and teacher of the intuitive process who also adopted a child. In addition to co-writing "Finding Zoe," she is the author of "Your Heart Knows the Answer." She lives with her husband and son in Framingham, Massachusetts.